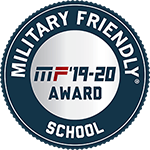 Newman University programs are approved for Veterans Educational Benefits. Veterans and their dependents and spouses may be eligible for educational benefits through the U.S. Department of Veterans Affairs.
Students who hope to receive veterans' educational benefits at Newman University should request a Certificate of Eligibility (COE) from the VA at 1-888-GI BILL-1 or through the U.S. Department of Veterans Affairs website. The VA will determine whether or not a student is eligible for VA educational benefits. Eligible service members should receive approval from an Educational Services Officer (ESO) or counselor within the Military Services prior to enrolling at Newman University. The Registrar's Office at Newman University requires a current copy of the COE before the student's first semester. In addition, an Enrollment Certification Request for VA Education Benefits form must be submitted to the Registrar's Office prior to the start of each semester a student plans to use VA educational benefits. These documents must be completed and submitted to the Registrar's Office before certification can be processed. The Registrar's Office completes the certification process in cooperation with Student Accounts.
The Registrar's Office serves as the point of contact for all Service Members enrolling at Newman University. The Registrar's Office will aid the Service Member in connecting with the appropriate offices regarding academic and financial advising, disability counseling or other student support services as well as career services options for the future.
Newman VA Benefits Certification Timelines
Fall Semester: Begins August 1
Spring Semester: Begins December 1
Summer Semester: Begins May 1
**Please visit the VA Benefits Checklist page for more information regarding how to use your VA benefits at Newman University, and to print a copy of the Enrollment Certification Request form to be completed by both you and your faculty advisor.**
Newman University is proud to participate in The Yellow Ribbon GI Educational Enhancement Program, which is designed for qualifying veterans and dependents who wish to attend a private university. A student's tuition and fees costs may exceed the standard Post-9/11 GI Bill® maximum benefit rate. The Yellow Ribbon Program is an agreement with the VA to help cover the additional costs. The VA will match Newman's additional contribution dollar-for-dollar so the student can attend Newman for little to no cost.
Additional Education Certification Requirements
Some educational programs have additional certification requirements. For more information regarding these, visit:
https://newmanu.edu/academics/academic-information/additional-certification-requirements.
Veterans Benefits and Transition Act of 2018
– Section 103, PL 115-407
Newman University does not impose any penalty, including assessment of late fees, deny access to classes, libraries or other institutional facilities, or require a Chapter 31 or Chapter 33 recipient to borrow additional funds to cover the individual's inability to meet his/her financial obligations to Newman University due to the delayed disbursement of a payment by the U.S. Department of Veterans Affairs. This applies only if the payments are not received within 90 days of the beginning of the term.
Students are required to provide documentation to ensure they are entitled to GI Bill benefits no later than the first day of the educational program in which they are enrolling.
The restriction on penalties would not apply in cases where the student owes additional payment to Newman University beyond the amount of the tuition and fee payment from VA to Newman.
Limitation on Certain Commissions, Bonuses, and Other Incentive Payments
- Section 1020, PL 116-315
Newman University does not provide any commission, bonus, or other incentive payment based directly or indirectly on success in securing enrollments or financial aid to any persons or entities engaged in any student recruiting or admission activities or in making decisions regarding the award of student financial assistance.
Newman University seeks to admit qualified students interested in career preparation through the liberal arts. A selective admissions process allows each candidate to be considered on an individual basis.
---
GI Bill® is a registered trademark of the United States Department of Veterans Affairs (VA)