Newman University Emergency Resources
Emergency - for life threatening situations, please call 911
Security - (316) 942-4291 ext. 2911
Dean of Students Office - (316) 942-4291 ext. 2453
Housing and Residential Life - (316) 942-4291 ext. 2425
Virtual Care Group - https://thevirtualcaregroup.com/newman
Newman University's Counseling Referral Service - contact Kate Bussell in the Runway Learning Center (SHH301) or email

[email protected]

to receive the required counseling referral paperwork
24/7 Crisis Hotlines
Suicide & Crisis Lifeline, call 988
Com Care Sedgwick County (316) 660-7500 or (800) 273-TALK (8255)
National Suicide Prevention Lifeline
The Crisis Text Line - Text "MHFA" to 741741
The Substance Abuse and Mental Health Services - (800) 662-HELP (4357)
National Domestic Violence Hotline - (800) 799-SAFE (7233)
Disaster Distress Helpline - (800) 985-5990
Propeller Project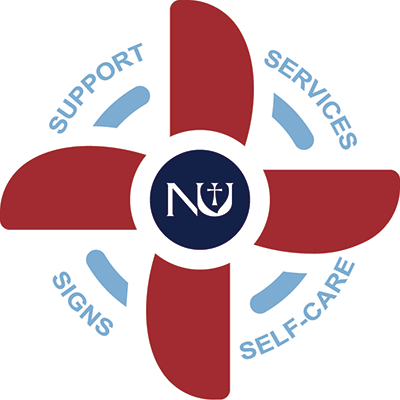 The Propeller Project is a mental health awareness and suicide prevention campaign at Newman University. The goal is to educate the NU community about campus support and services. Members of the Propeller Project are certified in mental health first aid and provide resources to students, staff, and faculty. NU community members that have a propeller sign outside their office door, on their email signature, or a propeller button, will listen and provide mental health support to those who ask for assistance.
Upcoming Health Services Events
Dec. 1st , 2022 - Suicide Survivors a Discussion of Healing - Samuel Loerke - Alumni Center @ 4:30pm
Dec. 4th, 2022 - Alumni Christmas Mixer - University Relations - Alumni Center @ 1:00pm
Dec. 4th, 2022 - Christmas Concert - Music Department - St. John's Chapel @ 3:00pm
JET C.A.R.E.
Campus Action Response and Engagement
View the Jet C.A.R.E. Resource Document
The Jet C.A.R.E. team
| | | |
| --- | --- | --- |
| Kate Bussell | Dir of Student Success | 316-942-4291 ext. 2319 |
| Jill Fort, Ph.D. | Assoc. VP of Academic Affairs | 316-942-4291 ext. 2175 |
| Kristi Barton Edwards | Assist. Prof. of Criminal Justice | 316-942-4291 ext. 2256 |
| Lindsey Stillwell | Prof. of Social Work | 316-942-4291 ext. 2285 |
| John McCormick | Prof. of Theology | 316-942-4291 ext. 2159 |
| Mo Floyd | Dir. of Security | 316-942-4291 ext. 2143 |
| Sara Mata, Ph.D. | Dean of Students | 316-942-4291 ext. 2453 |
| Amelia Hopper | Assoc. Prof. of Nursing | 316-942-4291 ext. 2245 |
| Mendel Folefac | Dir. of Residence Life | 316-942-4291 ext. 2425 |
| Maureen Rohleder | Assoc. Athletic Director | 316-942-4291 ext. 2118 |
Sedgwick County Health and Services Directory
Location
Phone Number
Connecting Point
(316) 267 - 3535
Kansas Legal Services
(316)

265 - 9681
Long Term Care Ombudsman (nursing homes)
(316)

347 - 1429
Parenting or Anger Management Resources
2-1-1
Passageways (Veterans)
(316) 721 - 1316
Aging and Disability Resource Center
(855) 200 - 2372
Sedgwick County Developmental Disability Org.
(316)

660 - 7630
WSU Community Engagement Institute (Support Groups)
(316)

978 - 3843
Senior Info-Line

(316)

267 - 0122
Dept for Children and Families (DCF)

(316)

337 - 7000
To Report Abuse (DCF)
(800) 922 - 5330
Wichita Area Sexual Assault Center

(316)

263 - 3002
Wichita Transit Bus Schedule

(316)

265 - 7221
Homeless Shelters/Transitional Housings
Phone Number
St. Anthony Family Shelter, Catholic Charities, Inc.

(316)

264 - 7233
Homeless Resource Center (Day Shelter)

(316)

265 - 9371
Harbor House (Domestic Violence)

(316)

263 - 6000
Salvation Army, Homeless Services (Women & Families)

(316)

263 - 2196
Union Rescue Mission (Men Only)

(316)

687 - 4673
Wichita Family Crisis Center (Domestic Violence)

(316)

267 - 7233
Location
Phone Number

Bread of Life
(Tues 10am -1:45pm)

(316) 689 - 6866



His Helping Hands
(Sat. 9am - 11:30am)

(316) 838 - 8528



Immanuel Baptist Church
(Thurs. 9am - 11am)

(316) 262 - 1452



Jehovah Jireh
(Thurs./Fri. 1pm - 3:30pm & Sat. 9am - 12pm)

(316) 312 - 9903



Klothes Kloset
(Mon, Wed, Fri 9am-2pm)

(316) 265 - 9371


Food Pantries
Phone Number

Bread of Life
(Tues. 10am - 1:45pm)

(316) 689 - 6866



Giving Center
(8-11am Tues & Wed, 5-7pm Thurs)

(316) 554 - 8924



Grace Center
(5:30-6:30pm 2nd & 4th Mon)

(316) 990-5819



Our Daily Bread – CC
(by apt. only)

(316) 264 - 8344



Table of Hope Community Church
(Tues. 1pm - 6pm)

(316) 267 - 1852



Hillside Christian (Thurs 9-10:30am)

(316) 683 - 6577



His Helping Hands
(1st & 3rd Tues 3-5pm)

(316) 838 - 8528



New Beginnings
(Wed. 1pm - 3pm)

(316) 267 - 6504



Salvation Army
*(Call for apt.)

(316) 263 - 2769



Simple House
(11am-1:15pm Mon & 9:30am-12:15pm Tues)

(316) 303 - 9994



Union Rescue Mission
*(by appointment only)

(316) 687 - 4673



Westside Good Neighbor Center
(Wed. 8:30am - 11:30pm)

(316) 942 - 7349


| | | | | | | |
| --- | --- | --- | --- | --- | --- | --- |
| Sunday | Monday | Tuesday | Wednesday | Thursday | Friday | Saturday |
| 5 | 1, 2, 5, 7 | 1, 5, 6, 7 | 1, 5, 7 | 1, 3, 5, 7 | 1, 5, 7 | 5, 8, 4 |
Location
Info.
Phone Number


1. Homeless Resource Center
402 E. 2nd N.

Lunch tickets given out 11am - 11:15am for homeless.
Must have ticket to eat.



(316) 265 - 9371




2. College Crest Church of Christ
2615 N Wellsley

Lunch served 11am - 1pm



(316) 686 - 1981



3. Grant Chapel
2750 N. Hillside

Lunch served 12pm - 1pm



(316) 685 - 2682



4. First Presbyterian Church
525 N Broadway St

Breakfast served from 8am - 9:30am
on 1st Saturday of the month

(316) 263 - 0248



5. Lord's Diner
(Two Locations)
520 N. Broadway
2825 S. Hillside

Dinner served 5:30pm - 7:30pm
For mobile locations call for details




(316) 266 - 4966





6. Tabernacle Bible Church
1817 N. Volutsia

Lunch served 11:30am - 12:45pm



(316) 681 - 3954



7. Breakthrough
1010 N. Main.

Breakfast served 8:15am - 9pm



(316) 269 - 4160



8. St. Paul Lutheran Church
925 N. Waco

Breakfast served 8am - 9:30am
(except 1st Sat of month)

(316) 263 - 0810


| | |
| --- | --- |
| Location | Phone Number |
| Wichita SG County Community Action Partnership | (316) 462 - 3775 |
| Breakthrough | (316) 462 - 3775 |
| Job Corps Outreach Center | (316) 771 - 6778 |
| KANSEL | (316) 263 - 9620 |
| Senior Employment (Senior Services, Inc. of Wichita) | (316) 267 - 1771 |
| Wichita Workforce Center | (316) 771 - 6800 |
| Women's Network | (316) 262 - 3960 |
| | |
| --- | --- |
| Location | Phone Number |
| 0-5 Early Childhood Programs | (316) 682 - 1853 |
| Big Brothers/Big Sisters of Sedgwick County, Inc | (316) 263 - 3300 |
| Boys & Girls Club of South Central Kansas, Inc. | (316) 687 - 5437 |
| Boy Scouts of America (Quivira Council) | (316) 264 - 3386 |
| CASA of Sedgwick County | (316) 866 - 2920 |
| Child Advocacy Center | (316) 660 - 9494 |
| Children's Services – MHA | (316) 685 - 1821 |
| Pando Initiative | (316) 973 - 5110 |
| Connecting Point | (316) 267 - 3535 |
| Girl Scouts of the Kansas Heartland | (316) 684 - 6531 |
| Girls & Boys Town National Hotline | (800) 448 - 3000 |
| 4H Youth Program | (316) 660 - 0100 |
| Healthy Babies – Sedgwick County Health Dept. | (316) 660 - 7433 |
| Heartspring | (316) 634 - 8700 |
| Kansas Children's Service League | (316) 942 - 4261 |
| Kansas Society for Children with Challenges | (316) 262 - 4676 |
| Parent Helpline | (800) 332 - 6378 |
| Parents as Teachers | (316) 973 - 5160 |
| Rainbows United, Inc. | (316) 267 - 5437 |
| Saint Francis Ministries | (316) 831 - 0330 |
| Dept for Children & Families (Abuse) | (800) 922 - 5330 |
| Volunteer Center, United Way of the Plains | (316) 267 - 0202 |
| Wichita Children's Home | (316) 684 - 6581 |
| WIC (Women, Infants, & Children) Program | (316) 660 - 7444 |
| Wichita Area Sexual Assault Center (WASAC) | (316) 263 - 3002 |
| YMCA | (316) 264 - 1610 |
Baby Items
| | |
| --- | --- |
| Location | Phone Number |
| A Better Choice | (316) 686 - 5757 |
| Birthline, Inc. | (316) 265 - 0134 |
| Community Services - UMOD | (316) 267 - 4201 |
| SAFE KIDS (car seats) | (316) 946 - 5045 |
| Union Rescue Mission (diapers & formula) | (316) 687 - 5673 |
Location
Phone Number
Center City (COMCARE Homeless Program)
(316) 660 - 7800
Center on Family Living, Friends University

(316) 295 - 5638

COMCARE of Sedgwick County

(316) 660 - 7540

Cana Counseling Services

(316) 263 - 6941

CRISIS INTERVENTION (Suicide Hotline)

(316) 660 - 7500

Breakthrough

(316) 269 - 2322

Episcopal Social Services

(316) 269 - 4160

Family & Children Community Services - COMCARE

(316) 660 - 9600

HealthCore Clinic

(316) 691 - 0249

Higher Ground

(316) 262 - 2060

HopeNet, Inc.

(316)

684 - 4673
Mental Health Association of South Central KS

(316) 685 - 1821

Psychology Clinic, Wichita State University

(316)

978 - 3212
KCSL Outpatient Mental Health - East

(316)

686 - 6671
Word of Life Counseling Center

(316) 619 - 5589
Location
Phone Number
E.C. Tyree Health Clinic
(316) 681 - 2545
Embrace (STD testing)

(316) 945 - 9400

GraceMed Health Care Clinics (all locations)

(316) 866 - 2000

Guadalupe Clinic (St. Francis)

(316) 264 - 8974

Guadalupe Clinic-(Hillside)

(316) 201 - 1986

Harry Hynes Memorial Hospice

(316) 265 - 9441

Sedgwick County Division of Health

(316) 660 - 7300

KanCare Clearinghouse

(800) 792 - 4884

KanCare Ombudsman

(855) 643 - 8180

HealthCore Clinic

(316) 691 - 0249

Hunter Health

(316) 262 - 2415

KU Wichita Internal Medicine - Midtown

(316) 293 - 1840

KU Wichita Pediatrics

(316) 962 - 3100

Mayflower Clinic (uninsured only)

(316) 588 - 3991

Medical Service Bureau, Inc.

(316) 683 - 7559

MERN (medical equipment, supplies, etc.)

(316) 942 - 6300

Project Access

(316) 688 - 0600

MyCounty Cares – The One Card

(316) 660 - 7673

Via Christi - Children's Miracle Network

(316) 946

- 5020
| | |
| --- | --- |
| Location | Phone Number |
| E.C. Tyree Health & Dental Clinic | (316) 681 - 2545 |
| GraceMed Dental Clinic | (316) 866 - 2000 |
| HealthCore Clinic | (316) 697 - 0249 |
| Hunter Health Dental Clinic | (316) 269 - 0677 |
| MyCounty Cares – The One Card | (316) 660 - 7673 |
Location
Phone Number
Addictions Treatment @ MHA
(316) 652 - 2590
Al-Anon/Alateen

(316) 266 - 8499

Alcoholic's Anonymous (AA)

(316) 684 - 3661

COMCARE Addiction Treatment Services

(316) 660 - 7550

District Attorney, Sedgwick County
(Involuntary Commitment)

(316) 383 - 7281

HealthCore Clinic

(316) 691 - 0249

Higher Ground

(316) 262 - 2060

Miracles, Inc.

(316) 303 - 9520

Narcotics Anonymous (NA)

(316) 524 - 7775

Options Adult Services/Detox Center (Men)

(316) 265 - 6011

Pathways, Mental Health Association

(316) 686 - 1821

Preferred Family Healthcare

(316) 943 - 2051

Restoration/Knox Center, Inc.

(316) 265 - 8511

Substance Abuse Center of Kansas

(316) 267 - 3825

Wichita Fellowship Club

(316) 265 - 9348

Women's Recovery Center

(316) 262 - 0505
| | |
| --- | --- |
| Location | Phone Number |
| Consumer Credit Counseling | (316) 265 - 2000 |
| Unemployment Benefits | (316) 383 - 9947 |
| | |
| --- | --- |
| Location | Phone Number |
| Affordable Housing – H.O.P.E., Inc | (316) 618 - 8652 |
| City of Wichita Housing Services Dept. – Section 8 | (316) 462 - 3700 |
| Habitat for Humanity, Inc. | (316) 269 - 0755 |
| Housing Services, Inter-Faith Ministries | (316) 201 - 4107 |
| KSHOUSINGSEARCH.ORG | (877) 428 - 8844 |
| Mennonite Housing Rehabilitation Services Inc. | (316) 942 - 4848 |
| Residential Services – MHA | (316) 685 - 1821 |
| Weatherization Assistance Program | (316) 262 - 7035 |