Degree & Certificate Applications
Undergraduate Degree Application Graduate Degree ApplicationCertificate Application
Get your cap and gown
Order your cap and gown delivered to your home through Jostens.
---
Student Grad Questions and Answers
The Registrar's Office will mail the diploma to each graduate. Please update your address in JetStream accordingly.
Yes. All students must apply for graduation and pay the application fee.
If you are attending the ceremony, you must purchase a cap and gown through this Josten's link
Eligibility for graduation honors is based on the following criteria:
Baccalaureate degree candidate:

cumulative GPA of 3.5 or above
minimum of 62 resident hours (excludes nontraditional credit)

Graduation honors indicated on the diploma and transcript are:

SUMMA CUM LAUDE 3.9 cumulative GPA
MAGNA CUM LAUDE 3.7 cumulative GPA
CUM LAUDE 3.5 cumulative GPA
Students who do not meet the 62 resident hour requirement for graduation honors but have a 3.5 or above GPA receive the designation "Academic Commendation" on their transcript.
Students earning a second degree will have honors calculated only on the courses that are used to meet second degree requirements.
Baccalaureate degree candidates qualifying for academic honor cords will have the cords mailed to them. Please contact 316.942.4291 ext. 2121 with questions.
Baccalaureate and Master degree candidates qualifying for the non-academic stole should contact the Office of Student Life with questions at 316.942.4291 ext. 2200.
Graduation applications are sent to students via their Newman email address. To locate final application deadlines, please refer to the online Schedule of Classes Information pages here.
Completion of the graduation application includes the payment of the $100 graduation fee. This fee may be paid online
here
.
Until students file their application for graduation, the Registrar's Office has no formal notification of their degree, major(s), minors or areas of concentration. The application also gives students the opportunity to list their name the way they want it on their diploma. This is also the name that is printed in the commencement program and read at commencement.
A Jostens representative will be available on campus in the Dugan-Gorges Conference Center at various times throughout the semester. (Watch your Newman email for dates!) Students can also order online at www.jostens.com. Note: Students who order rings from the Jostens representative on campus will receive a discount that is not available when ordered online.
A student's application for degree is in effect for the academic year in which it is filed. An academic year consists of the fall semester, the spring semester following it, and the summer term following it. If students do not complete their requirements within that academic year they must reapply and should consult their academic advisor for details.
No. Only one degree is given at a time and that is the degree for the major you list first on your degree application. Both majors are listed on your transcript and they are listed in the order you list them on your degree application.
Students are expected to complete all their courses by the end of the semester they have indicated they will graduate. They may walk in the ceremony but may not graduate with an "Incomplete" grade.
An official transcript (not a grade report or a faxed transcript) must reach the Newman University Registrar's Office by the date listed on the Important Dates for Graduating Students card in the graduation packet. Keep in mind that it is your responsibility to request the transcript. It should be sent directly to:
Lori Gibbon, Registrar
Newman University
3100 McCormick
Wichita, KS 67213-2097
Guest Attendee Questions and Answers
Feel free to park anywhere on campus, St. John's Chapel is in the center of campus.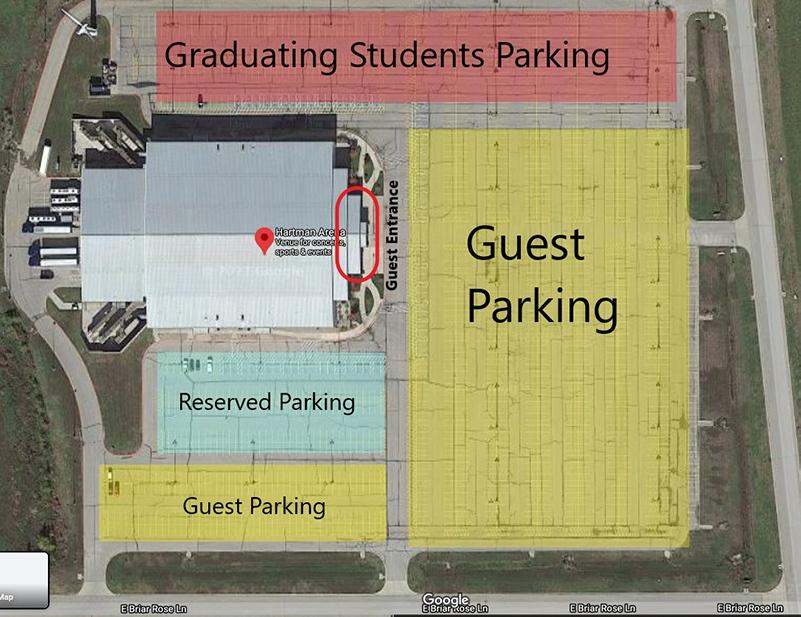 Hartman Arena and St. John's Chapel are both handicap accessible. There will be special seating areas in Hartman for guests who will be in wheelchairs. For St. John's Chapel, there will be signs directing guests to handicap entrances.
Our ceremonies last from 2-3 hours.
Professional photographers will be on site taking photos during the commencement ceremony. Photograph proofs and rate sheets will be emailed to the graduates a few weeks after the event. NO guests will be allowed on the floor during the commencement ceremony. If you would like to take candid photos with your graduate we ask that you do it at one of our photo stations.
It is strongly encouraged that you set up an outside meeting location with your graduates prior to the ceremony as the graduating students and guests will probably exit Hartman Arena from different locations.