The BSI program at Newman University is designed to give students a holistic understanding of how analysts optimally perform in an increasingly competitive, complex, and capricious environment.
The curriculum (100% online) prepares students for utilization in both private and public sectors—performing analysis for agencies in business, public service, security, and criminal justice. The intent is to produce analysts and staff professionals capable of separating signal from noise within a high volume of collected data, packaging it in a clear, concise manner, then presenting it to senior decision-makers within a dynamic environment. Further, via the aforementioned 'big picture' liberal arts regimen, the graduate will more capably anticipate questions, comments, and concerns from the audience he/she is tasked to support.
Students are prepared to:
Think strategically
Identify trends and derive insights from multiple and voluminous data sources
Attain proficiency with mathematics, information technology, and other tools of the profession
Present analytic results in clear, concise oral and written formats to senior decision-makers
About Our Faculty
The Newman University School of Business faculty and staff have the knowledge and experience to help you prepare for leadership roles within large companies and organizations. If you need clarification on a class assignment or advice on how to approach your future, you can feel confident that our faculty is available and ready to help.
A number of industry-specific jobs exist for Business Intelligence (BI) professionals who want to work with a particular type of company or data. Some BI professionals work to develop special software for applications within a particular industry, or work on teams to both evaluate competition and suggest data-driven ways to propel an organization past industry competitors. BI professionals in these settings may also be involved in training, modifying existing software products to reflect organizational needs and preparing a variety of reports and presentations about pertinent data.
An advantage to the BI field is the variety of avenues available to enter it, and even more ways to grow once employed. For professionals with strong business knowledge and people skills, the role of a BI project manager may be of particular interest. For those BI professionals who bring sound software development skills and a vast array of knowledge in a particular industry, a BI consultant job may be a perfect fit. BI, in essence, combines information technology acumen with sound business principles for integration into creative business solutions.
By 2018, the McKinsey Global Institute predicts a national shortfall of 1.5 million qualified analysts and managers who can make sound business decisions based on accurate analysis of big data. The expected job growth for qualified professionals is thus more than double the national average — 14 percent forecast in the period encompassing 2014 to 2024.
The Department of Labor has released similar statistics focused on Management Analyst demand through 2026:
Quick Facts: Management Analysts

$81,330 per year
$39.10 per hour

Bachelor's degree

Less than 5 years

None

806,400

14% (Faster than average)
A BSI will give you the opportunity to work in a variety of fields and specialties in management-level positions. Here are some examples of potential careers.
Senior Intelligence Threat Analyst
Strategic All Source Analyst
Intelligence Analyst/Officer
Strategic Planner
Crime & Intelligence Analyst
Police Analyst
Cryptologic Liaison Officer
Business Analyst
Data Analyst
You may have heard the saying "Everything is in the data" but what use is data if it is not well understood? That is where a data analyst comes in. Data analysts perform data mining or collection, clean the data then analyze trends and opportunities. Analysts also work to translate these numbers into plain English and communicate this information with key stakeholders. There are many different types of data analysts in the field, including operations analysts, management analysts, financial analysts and more.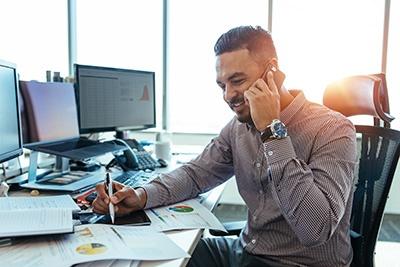 So what is the salary of a data analyst? According to the Bureau of Labor Statistics (BLS), the median annual pay for financial analysts in 2017 was $84,300. Operations research analysts had a median annual pay of $81,390 and management analysts had a median annual pay of $82,450. Demand for mathematicians and statisticians is also expected to grow by 33% through 2026. Jobs for operations research analysts are expected to grow 27% and jobs for database administrators are expected to grow by 11% by 2026.
Source: Bureau of Labor Statistics
Success Story — Easton Julian, Class of 2016
Recent Newman University alumnus, Easton Julian, graduated from our business program with a job already in place at Textron Aviation, as a customer account coordinator. When Easton was asked to reflect on his time at Newman University, he stated, "I think Newman has a great value and I think it's because you get to know your professors by name. Even the president [of Newman] knew my name. You get a personal relationship with everyone at Newman."