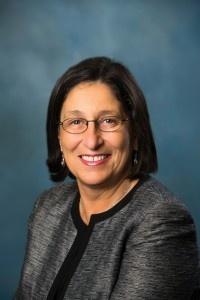 Welcome to Newman University!
I'm delighted you're spending time on our website. I hope you will take a little time to get to know us and find answers to questions you might have about this dynamic university. A college education is critical now more than ever in this world. Strong leadership, communication and critical thinking skills are essential if you're going to thrive in today's environment. As I connect with business leaders across the region, I hear more and more that they need employees who are thinkers; employees able to see relationships and connections between seemingly unrelated subjects. At Newman University, we provide just such an experience for our students.
The Newman Studies Program (NSP), a nationally recognized common core curriculum for undergraduate students, develops the intellect through a variety of unique and intriguing courses to strengthen the skills I note above while also providing a solid foundation in a wide range of subjects. Newman has also been a guiding light for graduate and adult students over the years, providing them the supportive environment and quality education they need to improve themselves in their chosen fields. Newman was one of the first in the region to tailor courses and scheduling for returning adult students and we continue to work hard to meet their unique needs. Our small campus, nurturing faculty and powerful sense of mission have held strong appeal for the many mothers and fathers who have completed a Newman degree.
Newman University graduates repeatedly gain acceptance into the nation's top graduate programs and medical schools. Others directly enter the workforce and perform at such high levels that we receive calls from employers who want more like them. That recognition makes a Newman degree valuable -- to our students, our parents, our alumni and our community; and it's a point of pride for our hard-working faculty and staff. Quite literally, we prepare our graduates for the world that doesn't exist yet.
With excellence in the classroom and a mission to "empower graduates to transform society," we are a close, caring community that truly works to make a difference in this world. Some institutions offer the degree. At Newman University, our highly sought-after degrees come with a personal challenge to each graduate -- that once you've earned it, you must use it to transform this world for the better. The stories we receive from our alumni prove every day that our mission is alive and well.
Thank you for taking the time to learn about Newman University. I invite you to "make it personal" by getting your feet on our campus to enjoy one of our stellar fine arts performances or new exhibits in the Steckline Gallery, or a sporting event with our NCAA DII athletes -- who, as of 2019-20, regularly earn the top G.P.A.'s in the MIAA Conference.
Go Jets!
Noreen M. Carrocci
President, Newman University