Are you ready for a challenge?
Newman University invites you to engage in one of the most powerful experiences of your college career.
How to Apply
Fill out the Guatemala Study and Serve application and reference form below and email to This email address is being protected from spambots. You need JavaScript enabled to view it.
We´ll kick off the summer volunteering with the Sisters of the Adorers (ASC) in their health and education projects near Guatemala City. Next, we'll visit beautiful Lake Atitlán to witness the courage of local people in their struggle for justice and walk where Oklahoma priest Father Stanley Rother served and sacrificed his life. Next, we´re off to the western mountains for five weeks to study Spanish language, history, social reality and culture in the city of Quetzaltenango, or Xela as it´s locally known. Along with five hours of personal instruction a day, our weeks in Xela include site visits, films, speakers, salsa lessons, masses, hikes, soccer, service projects and individual host families. After exams and the last writing assignments are in, we'll fly north to the Mayan ruins of Tikal, spending two days hiking, learning and relaxing in the jungle before returning to Guatemala City for our journey home.
Amid our language and cultural immersion, we'll gather for La Noche Newman, a time to reflect and support each other throughout the program. As we build relationships with one another and with our local hosts, we will trace connections to the ASC, the Catholic tradition, our own nation and global community. We hope you'll join us.
Photos from previous trips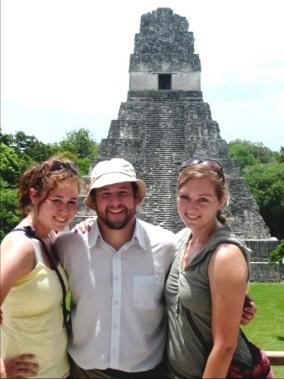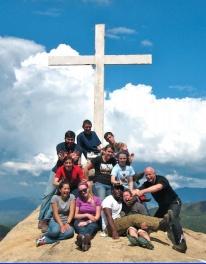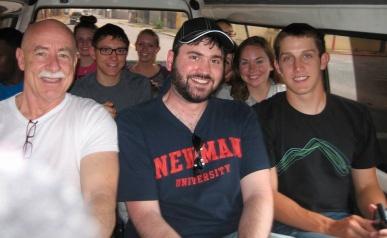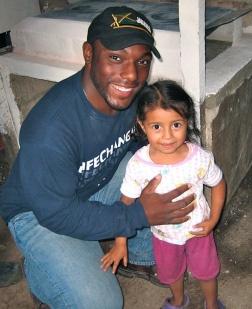 View the 2017 Guatemala Study and Serve brochure
Courses
SPAN 1015 Elementary Spanish 1
SPAN 1115 Elementary Spanish 2*
SPAN 2115 Intermediate Spanish 1*
SPAN 2125 Intermediate Spinish 2*
SPAN 3012 Advanced Spanish 1*
SPAN 2143 Conversation I *
SPAN 3143 Conversation 2*
SPAN 3893 Field Experience Abroad
SPAN 4104 Central American Excounters
SPAN 2153 Intermediate Spanish for Medical Professions*
SPAN 3153 Advanced Spanish for Medical Professions*
SPAN 4993 Independent Study in Spanish*
*Pre-requisites apply. 8-11 credits possible depending on level. Contact Sonja Bontrager for course selection; placement test may be required. Additional course offerings for advanced students. Current NU students should enroll in SPAN 3103A Introduction to Central America (Pre-Departure) For Spring 2017.

Do you have what it takes?
A positive attitude, patience and sense of humor
Friendliness and genuine interest in others
Willingness to fail, ask for help and try again
Compassion and openness to listen
Conscientious respect for rules/guidelines and the ability to follow instructions
Humility and an open, grateful heart
Determination and a strong work ethic
Self-reliance and cooperation
Ability to suspend judgment while learning
Courage to try new things
Commitment to learning Spanish
Willingness and ability to walk and hike
Respect for faith/spirituality and other traditions
Desire to serve and learn from others

Please contact:
Sonja Bontrager
Assistant Professor of Spanish
Office: McNeill 312
Newman University
3100 McCormick
Wichita, KS 67213
316.942.4291 ext. 2158
This email address is being protected from spambots. You need JavaScript enabled to view it.