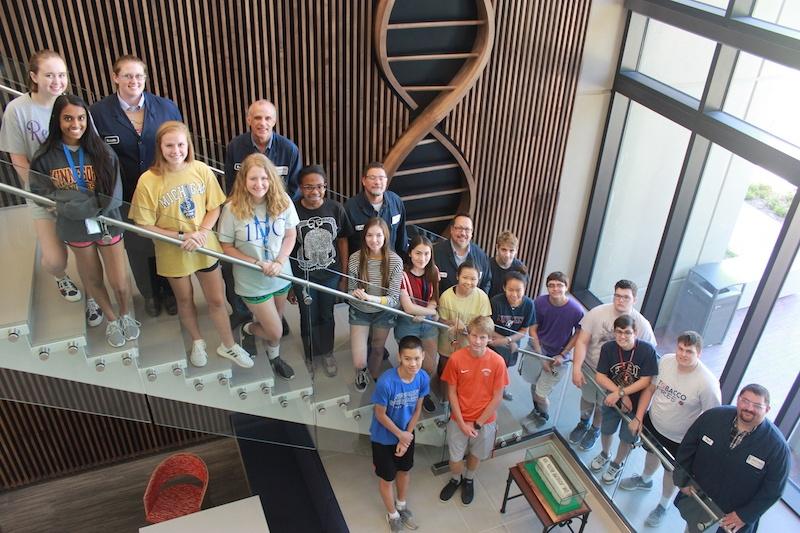 "The best part of the program was having the speakers come in and teach us about different subjects because it gave me more interest in the subject" - 2019 Program Participant
What is the Newman STEM Exploration Program (NSEP)?
NSEP is designed to encourage high school students, especially first generation and low-income students, to explore and investigate the possibility of a career in a science, technology, engineering or mathematics (STEM) field. Each participant will:
Earn two hours of college credit with a pass/fail grade upon successful completion of the program
Attain hands-on experience conducting faculty-led STEM laboratory experiments and activities
Perform group and individual analysis of experiments
Learn from college faculty through engaging demonstrations
Engage with guest speakers from a variety of STEM-related fields to discuss the career opportunities possible with a STEM education
Experience college life as an authentic Newman University student including the privileges of a student ID
Newman University is proud to have the generous support of Evergy as sponsors of the Newman STEM Exploration Program.
Details
Dates/Times:
NSEP meets for 8 weeks on Tuesdays and Thursdays from 4:00-5:45 PM starting March 9 and ending on May 6.
Location:
State-of-the-art Bishop Gerber Science Center located on the Newman University campus in Wichita, KS.
Cost:
Free! This includes a tuition waiver for two hours of college credit!


Who can apply?
Any high school sophomore, junior, or senior who has completed at least one high school science and math course. Consideration may be given to freshmen. Priority will be given to first-generation students and/or low-income students.
You do not have to be committed to a STEM-related career to attend NSEP.
How to Apply:
Complete this online application for program admission: Application will be available soon!
Email a copy of your high school transcript to

This email address is being protected from spambots. You need JavaScript enabled to view it.
Completed applications will be reviewed as they are received and spots will be filled on a first-come-first serve basis. Limited spots available!
All application materials must be received no later than February 22, 2021!
Questions? Contact:
Ryan Huschka, NSEP Director
Associate Professor of Chemistry
Newman University
3100 McCormick
Wichita, KS 67213
Phone: 316-942-4291 x 2428
E-mail: This email address is being protected from spambots. You need JavaScript enabled to view it.
---
NSEP Participating Faculty
Stacy Jones, Ph.D.
Professor of Biology
Ryan Huschka, Ph.D.
Assistant Professor of Chemistry
Alan Oberley, Ph.D.
Assistant Professor of Chemistry
Sarah Evans
Professor of Biology
John Vogt, M.S.
Associate Professor of Mathematics
Professor of Chemistry
Newman University Philosophy on STEM Exploration
The Newman University mission of producing graduates who will transform society is grounded in our commitment to provide education experiences and create career opportunities for all students. The Newman Stem Exploration Program (NSEP) is designed to reveal for students the value and wonders of STEM areas in both the classroom and daily life. The hands-on investigative experiences and guest speakers are designed to encourage students to explore their interests and investigate the possibility of a career in the science, technology, engineering or mathematics (STEM) fields.
With these classes being on a college campus, NSEP hopes to make students more comfortable with the idea of attending college and make it a positive and familiar experience.
NSEP strives to prepare scientifically literate students who nurture dreams of higher education and ultimately professional success.
Objectives of NSEP
To make STEM areas a fun and exciting opportunity through a variety of demonstrations, lab activities and guest speaker presentations designed to expose participants to a variety of career opportunities and foster their interests in all STEM areas.
To increase students' appreciation of the relevance of STEM fields and to build their interest and confidence in learning STEM-related concepts.
To help students foster independent scholarship, originality and competence in STEM related areas.
To broaden participants' scientific interests and inform students of the need and opportunities in all STEM-related careers by providing creative and meaningful career-related on-site visits and experiences with current STEM professionals.
The program will attempt to track participants' continued enrollment in high school, academic progress in STEM areas, graduation from high school and acceptance to an institution of higher education.