It is becoming increasingly popular to take college courses online. According to the National Center for Education Statistics (NCES), in 2017, one-third of students in post-secondary education were taking at least one class online and nearly half of those students were studying online exclusively. With the popularity of online studies growing, taking radiology tech programs online has become an option in recent years. Many students can now choose to take advantage of online learning for radiology rather than make the trip to the classroom — at least in part.
The truth is, many factors go into determining whether radiology tech programs online or in the classroom are better, and many of these factors rely on a student's unique situation and the fact that radiology is a very hands-on profession. With this in mind, it is beneficial to understand the pros and cons of radiology tech programs online versus a classroom setting.
Pros and Cons of Radiology Tech Programs Online
Taking radiology tech programs online may seem like the dream. Yet, it offers a set of distinct pros and cons. When deciding whether this is the right path for you, it is important to weigh them carefully.
Pros
Studying online offers several advantages, and taking radiology tech programs online is no different. The pros of this choice include:
You can ensure your studies fit your schedule, whether you are studying while holding down a full-time job, are at home with your children, or have another reason why you can't commit to full-time classroom studies.
You can study where you want and when you want. If you're a night owl, get your work done in the wee hours. If you like sitting in coffee shops while you study, you can do that, too.
You can study at your own pace and review lectures and material as much as you need to gain a firm understanding of the content.
It's easy to take your introductory courses online. These are the courses that give you a background in things like health care terminology, anatomy and physiology.
Cons
The cons of taking radiology tech programs online are primarily related to the fact that radiology is a very hands-on profession. During your day-to-day work as a radiologist, you will meet with many patients and each situation they present will be unique. You might have one patient who is 32 and has nearly full mobility and your next patient might be 72 and using a walker.
This is something for which a completely online program cannot adequately prepare you. With that in mind, here are some cons to taking radiology tech programs online:
It is easy to become distracted and put off watching and listening to lectures in order to get your work done. It is also easier to be interrupted when studying from home.
You are not able to get to know your teachers and fellow students in person. While you can undoubtedly develop relationships online, there is still something to be said for face-to-face contact.
Some of the courses you are required to take might be hybrid courses, meaning there are online and traditional components to them. You will have to check with your college for their specific requirements for online and class time.
At some point, you are going to need to physically go to a classroom or another facility to get supervised hands-on radiology tech training. This includes training in body imaging techniques, how to protect patients and the positioning of the patient's body for proper imaging.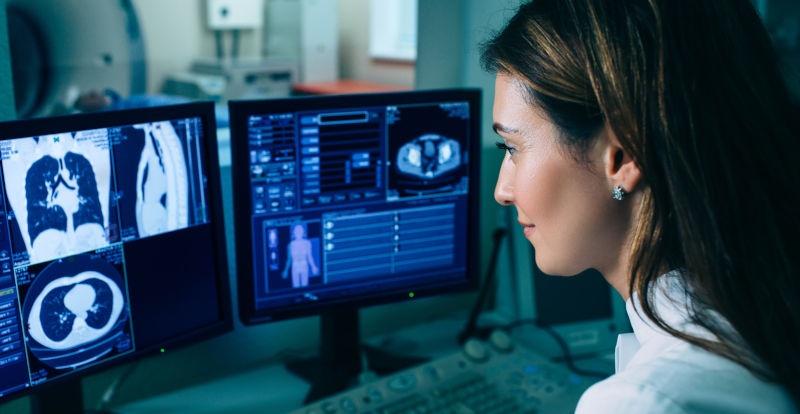 Pros and Cons of Radiology Tech Programs in the Classroom
Of course, there are also pros and cons that come with studying radiologic technology in the classroom. The pros and cons are as follows:
Pros
When you are physically on the college campus, you will be fully immersed in the learning environment. When this happens, you will find the following:
It's much easier to have face-to-face and one-on-one time with teachers.
You can develop an in-person relationship with classmates.
You will have full access to all on-campus facilities, including the library, study rooms and other amenities.
You will have a less complicated time scheduling and obtaining your hands-on practical training. It is also easier to put in extra hours.
It is easier to stick to a study schedule because it is essentially set for you.
Cons
Naturally, there are drawbacks when it comes to taking radiology tech programs in the classroom. This is particularly the case if you are a mature student returning to school and have a job, family or other obligations. The cons of studying in the classroom include:
You have little to no flexibility in your schedule.
If you miss a class or tech training time, it's harder to make it up.
You should include travel time and costs to get to and from classes or the cost of living on campus.
Making the Choice
Regardless of whether you choose one of the many radiology tech programs online or to study in the classroom, it is essential to remember the following:
You need to be sure the school is recognized and accredited by the American Registry of Radiologic Technologists (ARRT). This ensures the school is approved to provide an education in radiography that is based on the curriculum developed by the American Society of Radiologic Technologists (ASRT).
It is essential that at some point during your program, you have access to hands-on training in fully-equipped labs and that you gain practical work experience. Chances are you won't find a program that does not require this since you will need this practical training to be licensed and certified.
Remember, you have chosen to become a radiologist and to help people in a hands-on way for a reason. If you want to do that as a career, it all starts in the classroom. If you absolutely want or need an online component to your radiology tech training, look closely at the options for radiology tech programs online and choose the one that works best for you and still gives you the practical hands-on training you need.