Use sonographic equipment to capture accurate images of patients
While earning a sonography degree, students are trained to be highly skilled medical professionals that perform diagnostic ultrasound testing under the supervision of a physician. Diagnostic medical sonography includes abdominal, obstetrical, vascular, cardiac and various sub-specialties.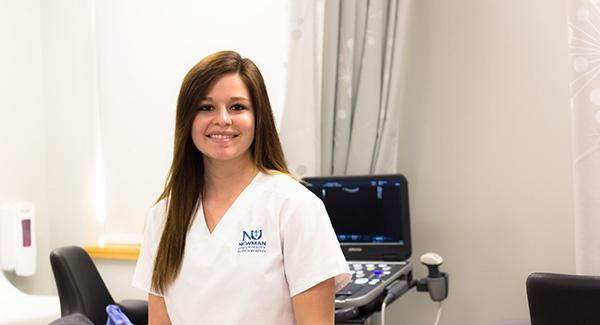 The sonography program at our private Catholic university prepares students to take the American Registry of Diagnostic Medical Sonographers examinations in Sonography Principles and Instrumentation, Abdomen, OB/GYN and Vascular.
Sonography exams taken through the ARDMS are good throughout the United States. These certifications are nationally recognized. There are no state specific exams. The Newman University Sonography program qualifies for all students to take boards through a specific prerequisite the ARDMS offers for Bachelor degree holding students.
For more information: https://www.ardms.org/get-certified/
Sonography Department
Our faculty and staff have the knowledge and experience to help you prepare for a career in sonography. If you need clarification on a class assignment or advice on how to approach your future, you can feel confident that our faculty is available and ready to help.
While pursuing a degree in sonography, you can expect a promising future. The sonography field is projected to grow 24% between 2012 and 2022. Our students are prepared to meet the expected demand for sonographers.
A sonography degree will give you the opportunity to work in a variety of fields and specialties. The average salary of a diagnostic medical sonographer is $66,360 a year, and half of all medical sonographers reported annual incomes of between $54,260 and $76,890.
Sonography students have the opportunity to gain real-world experience by interning in the Wichita community. This allows you to gain experience in a variety of medical settings and specialties.
Get Involved on Campus
One of the best ways to find success during your college career is to get involved in campus clubs and organizations. Within our sonography program, our students can participate in Science, Technology Engineering, Mathematics (STEM) Club. This organization allows for personal growth, networking, and future career success.