The Respiratory Care program leads to an Associate of Science in Health Science degree, which may be earned in two and a half years of full-time study. After a year of prerequisite courses, selected students enter the professional phase of the program in the fall and graduate in December of the following year. Selection for admission is competitive and limited to a class of twenty.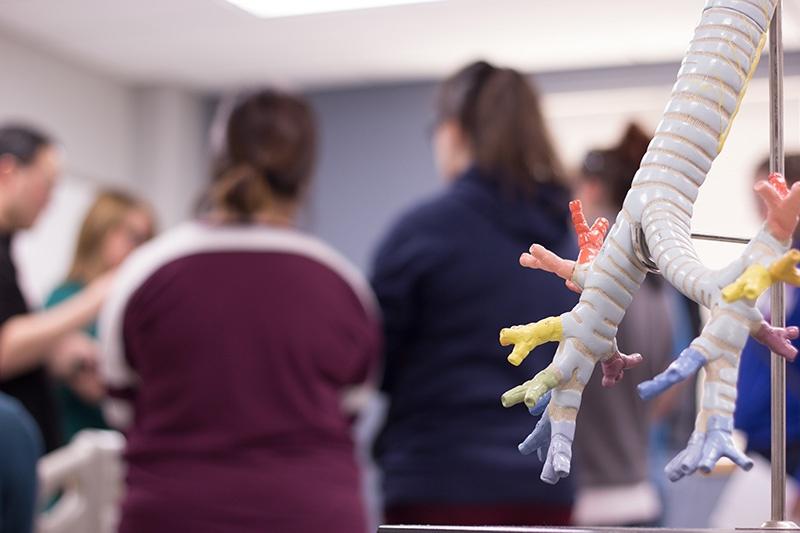 Our private Catholic college is located in urban Kansas, which allows students to connect with local health care facilities. With numerous networking opportunities and a 15:1 student-faculty ratio, our respiratory care students are given the tools and attention necessary to succeed.
The goal of the Respiratory Care program is to prepare graduates with demonstrated competence in the cognitive (knowledge), psychomotor (skills), and affective (behavior) learning domains of respiratory care practice as performed by registered respiratory therapists (RRTs).
The Newman University Respiratory Care Program, #200117, Associate of Science in Health Science degree, Wichita, KS, is accredited by the Commission on Accreditation for Respiratory Care (CoARC) (https://coarc.com/). CoARC accredits respiratory therapy education programs in the United States. To achieve this end, it utilizes an 'outcomes based' process. Programmatic outcomes are performance indicators that reflect the extent to which the educational goals of the program are achieved and by which program effectiveness is documented.
Outcomes data from the 2020 Annual Report of Current Status has been posted on the CoARC website.
Graduates of the Respiratory Care Program at Newman University meet educational requirements to apply for the National Board for Respiratory Care (NBRC) Therapist Multiple Choice (TMC) examination, which leads to the Certified Respiratory Therapist (CRT) credential. Graduates who achieve the high cut score on the TMC are eligible to apply for the Clinical Simulation Examination (CSE), which leads to the Registered Respiratory Therapist (RRT) credential. Newman's program is designed to meet the educational requirements for national credentialing exams and licensure in Kansas.
State licensure is required in Kansas. Kansas allows new graduates to obtain a temporary license if all requirements for licensure have been met except credentialing. Students must pass the national credentialing exam and graduate from an accredited program to be eligible for an active Kansas license. Separate from educational requirements, state licensure boards may require applicants to complete examinations, additional background checks, years of professional experience, training, etc.
All states except Alaska have licensure requirements. Some states require a Certified Respiratory Therapist (CRT) credential to apply for state licensure, and a few states require the higher level of credentialing, Registered Respiratory Therapist (RRT). Newman University has not determined whether completion of NU's ASHS in Respiratory Care meets educational requirements for licensure in states other than Kansas. Program applicants who intend to seek licensure outside of Kansas should consult with the state licensing agency in the state where they intend to be licensed, to determine state licensure requirements. We recommend that you contact the licensing agency directly before beginning the NU program. State licensing contacts are available at www.aarc.org/advocacy/state-society-resources/
Respiratory Care Department
Our faculty and staff have the knowledge and experience to help you prepare for a career in respiratory care. If you need clarification on a class assignment or advice on how to approach your future, you can feel confident that our faculty is available and ready to help.
While pursuing a degree in respiratory care, you can expect a promising future. According to the Bureau of Labor Statistics, employment of respiratory therapists is expected to grow 19 percent through the year 2029. Nationally, respiratory therapists earn a median annual salary of $62,810. Our students are prepared to meet the expected demand for respiratory therapists.
Respiratory Care is a dynamic, high-tech, high-touch allied health profession.
Respiratory therapists work under the direction of a physician and assist in the evaluation, treatment and care of patients with heart, lung, and breathing disorders. These patients range in age from the premature infant to the elderly. Most respiratory therapists work in hospitals; however, an increasing number of respiratory therapists are now working in physicians' offices, specialized care hospitals, home medical equipment companies, and skilled nursing facilities. The American Association for Respiratory Care (AARC) website can provide additional information on the profession of respiratory care.
Graduates are eligible to sit for the registry examinations offered by the National Board for Respiratory Care (NBRC), leading to the Registered Respiratory Therapist (RRT) credential. The RRT credential is the "standard of excellence" for respiratory care professionals. Requirements for licensure in the state of Kansas are partially met by earning the Certified Respiratory Therapist (CRT) credential.
100% of December 2020 Respiratory Care graduates passed their Certified Respiratory Therapist (CRT) licensure exam.
Get Involved on Campus
One of the best ways to find success during your college career is to get involved in campus clubs and organizations.
100% of 2020 graduates are employed in respiratory care
100% of 2020 graduates passed their Certified Respiratory Therapist (CRT) licensure exam
100% of 2020 graduates have achieved the Registered Respiratory Therapist (RRT) credential
"I love Newman. Newman's an easy place to fall in love with and it's easy to work hard for what you love."
Brandi Boese, Class of 2016
"I think Newman has great value and it's because you get to know your professors by name. The president of the university knew my name...because you get a personal relationship with everyone at Newman."
Easton Julian, CLASS OF 2016