Develop communication skills to complement any career choice
Employers desire candidates with strong communication skills meaning communication majors are marketable and successful. Students who choose the communication major will refine their oral, written, performative and visual messages; build interpersonal and small group team-building skills; construct marketing strategies for digital channels and prepare to engage in person, professional and civic purpose.
"I would say I find myself utilizing my Communication Degree daily in writing articles, presenting story ideas, and relaying information to my team to ensure we're all up to date."
Web and Social Media Reporter at KAKE TV
"My Communication Degree helps me by giving me a great baseline to build off of (because your degree should give you a start, not all the answers!). A lot of my experience for my job actually came from extracurriculars in school, like The Vantage, but what's amazing is that my degree has taught me how to navigate the relationships, interview processes, and day-to-day interactions (like feedback!) on a level most of my peers can't. It's pretty awesome."
Editor at Pioneer Telephone Cooperative
How did you get started as a sommelier and how did you learn?
"I've been working in restaurants since well before my time at Newman, and worked part-time through my entire time at Newman, too. I feel right at home in the restaurant setting. Because I love to learn, I was always asking questions and found a genuine interest and passion for the food and beverages on the menu. As I continued to grow and move, I found an amazing mentor who eventually suggested I and a few others at least begin to consider getting certified as a sommelier. He facilitated tasting groups and continues to be an incredible wealth of knowledge!"
Do you remember the first time a wine really blew you away?
"I am always blown away by the unexpected regions and varietals, and although I find it so hard to pick one wine that "really blew me away" because there have been so many, I can say my favorite part is feeling transported because of what is in the glass, or by the story of how it got there."
What is the oldest wine you have ever had?
"The oldest wine I've tasted recently is Frog's Leap 1988 Zinfandel. This was super interesting because Zin isn't known to age well, but to have something beautiful that is actually older than I am was a fun moment."
Can you tell me about the different wine sommelier levels? Also the amount of preparation needed to reach master sommelier level?
"There are two major educational bodies here in the United States. WSET and CMS. The Court of Master Sommeliers (CMS) is International, and this is the path I am on. The Master Sommelier diploma within CMS "is the highest distinction a professional can attain in fine wine and beverage service." Within CMS, there are 4 levels: Introductory, Certified, Advanced, and Master. They must be completed sequentially, and the final two need recommendations to be able to sit for the exams. Testing is focused on the areas needed for superior beverage department management, which include Tasting, Theory, Service, and also encompasses spirits, beers, as well as global wine knowledge. The exams get increasingly more difficult, but each is comprised of a written (Theory) exam, a mock-service portion, and a blind tasting of at least 4 wines. The Intro level does not include service or the blind tasting. I passed my Introductory level in 2017, and my Certified in 2020 To give perspective, only 172 have earned the Master Sommelier title. Of those 172, 28 are women. I am personally invested in growing the presence of women in the wine industry. I can't tell you how many hours I've spent reading, researching, and tasting in order to prepare. It's a fun journey, and one I especially love because of my love of learning. To me, wine is a tangible way to continue to study history, geography, and so much more."
Tell me a little bit about your current position at Tartine?
"Currently, at Tartine, I am the on-floor Sommelier and also the Wine Director. When I'm on the floor, I am serving/bartending just like every other coworker, although I will do the majority of wine service, and am always present to answer questions or help direct other servers or our guests. As the Wine Director, I get to work with Wine Reps from different companies to secure ordering, plan the wine menu, and facilitate tastings and food/wine pairings with our Executive Chef."
While in this program, you will participate in an internship to help build your resume. Our Catholic college is located in a metropolitan setting, allowing us to use professional communicators to teach some of our courses. Interested in journalism? You have the opportunity to work on a publication whose advisor is a professional journalist at the Wichita Eagle.
NU Baseball
Social Media Intern(s)
Newman Baseball is looking for two Social Media Interns for the fall of 2020 and the spring of 2021. The ideal applicants will possess strong knowledge of the digital media landscape, including various social media sites (Instagram, Twitter and Facebook). The successful candidates will be responsible for contributing to video projects, monitoring and posting on various social networks and baseball marketing and promotions. Those looking to gain valuable online media experience to add to are encouraged to apply.
Marketing / Promotion Intern(s)
Newman Baseball is looking for two (2) marketing interns to join our program for the fall of 2020 and spring of 2021. The ideal applicants will possess a strong knowledge of the social media landscape as well as be able to promote our events and promotions for the 2021 season. The positions will work with our coaching staff to promote the baseball program as well as collaborate with the athletic department on all marketing campaigns. Those looking to gain valuable marketing and promotion experience to add to their portfolio are encouraged to apply.
Applicants should submit: a cover letter explaining your interest in marketing / promotions in general and in this position specifically; a resume outlining your experience; and a list (if possible) with links to any marketing or promotional events you have helped with, to Coach Maus at [email protected]
Wichita Professional Communicators
Wichita Professional Communicators (WPC) has a $2,000 scholarship ready for one of your outstanding students. Details and deadlines are on the WPC website, along with our user-friendly online application.
http://www.wichitaprofessionalcommunicators.com/about-wpc/scholarships/
This is an annual and local scholarship to students pursuing degrees in communication related fields, such as advertising, digital media, editing, graphic design, journalism, marketing, photography, public relations, public speaking and writing, and who attend Wichita area colleges and universities.
Requirements:
Minimum 45 Credit Hours completed, Minimum 3.0 GPA, Resume, Copy of Transcript (unofficial), One letter of recommendation, Three or more work samples
Korva Coleman Diversity in Journalism Internship
The KMUW Korva Coleman Internship is geared toward training college students of color to be part of the next generation of public radio reporters and newscasters.The Coleman intern will get an immersive, hands-on learning experience at KMUW, Wichita's award-winning National Public Radio station, as well as mentoring from NPR newscaster Korva Coleman.
Learn more about the Korva Coleman Diversity in Journalism Internship
Hane teaches students how to have hard conversations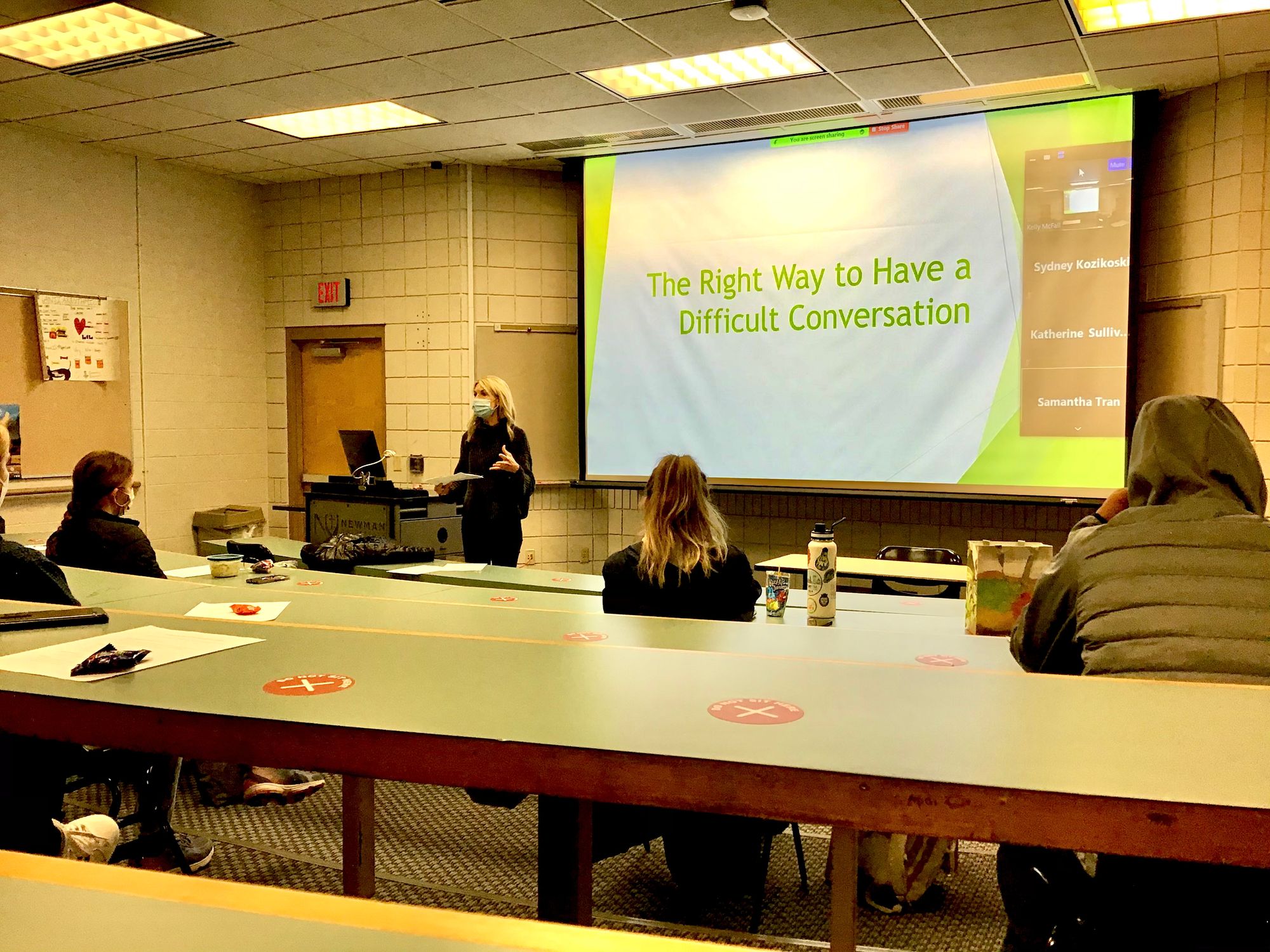 We've all had to have awkward or frustrating conversations with friends and family, whether it's about politics or another issue. Dr. Audrey Hane, professor of communication, spoke to students in the Honors Program on one of her areas of expertise: "The Right Way to Have a Difficult Conversation."
Communication Class Creates Website for The Lord's Diner
Service is at the heart of a Newman University education and when Professor of Communication Audrey Hane heard that her spring 2020 class could become involved with The Lord's Diner, she jumped at the opportunity.
While pursuing a degree in the field of communication, you can expect a promising future.
"The Class of 2017 graduates with the highest projected increases in average starting salary are social sciences and communications graduates. The projection for social sciences graduates - $53,459 - has climbed almost 15 percent over last year's projection.
Careers
A degree in communication will give you the opportunity to work in a variety of fields and specialties. Here are some examples of potential careers and their median salaries*.
* Salaries are based on median wages (professionals with years of experience) in the United States according to 2018 statistics from the Bureau of Labor Statistics.
Internships
Our communication students have the opportunity to gain real-world experience by interning in our Wichita community. Some of our students have interned at the following locations: 93.9 Radio Station, Atomic Billboards, Clear Channel Communication, Intrust Bank Arena, KAKE-TV Channel 10, The Wichita Eagle, Wichita Thunder, Wichita Wingnuts, and the YMCA.
Get Involved on Campus
One of the best ways to find success during your college career is to get involved in campus clubs and organizations. Within our communication program, our students can join the Communication Club and Communications Facebook Club. These organizations allow for personal growth, networking, and future career success.