Build a foundation for a career in science, medicine or education
Biology is the study of life. Our program provides the highest quality education and equips you with an array of career options after graduation. Most biology majors pursue advanced training and/or degrees in the fields of health sciences and biomedical research.
Our private Catholic university offers a Bachelor of Arts in Biology, Bachelor of Science in Biology, a Bachelor of Science in Biomedical Research, and a Minor in Biology. A degree in biology is used as a prerequisite for pre-dentistry, pre-med, pre-occupational therapy, pre-optometry, pre-pharmacy, pre-physical therapy, pre-physician assistant, and pre-veterinary.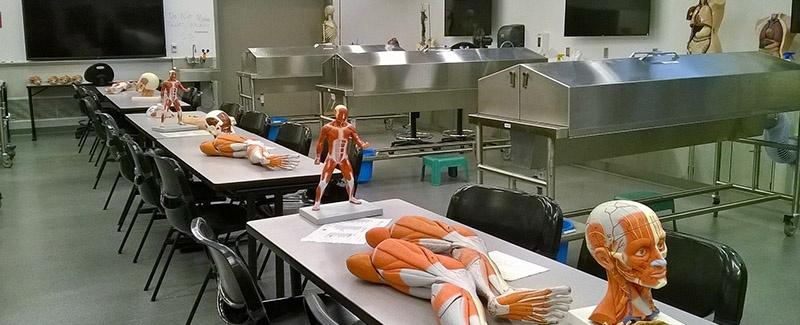 The Newman University Biology program offers first class state-of-the-art laboratories that prepare today's students to be tomorrow's top scientists.
Bachelor Degrees
Pre-Professional Programs
Minors
Our faculty and staff have the knowledge and experience to help you prepare for a career in biology. If you need clarification on a class assignment or advice on how to approach your future, you can feel confident that our faculty is available and ready to help.
While pursuing a degree in biology, you can expect a promising future. The biology field is projected to grow 5% between 2014 and 2024. Our students are prepared to meet the expected demand for biologists.
A degree in biology will give you the opportunity to work in a variety of fields and specialties related to biology. Here are some examples of potential biology careers and their median salaries:
Agriculture and Food Scientist ($62,470 a year)
Biological Technicians ($41,650 a year)
Environmental Science Specialist ($67,460 a year)
Zoologist and Wildlife Biologist ($59,680 a year)
Through our biology program, you have the opportunity to gain real-world experience by interning in our Wichita community. Some of our students have interned at physician's offices and in clinical research programs.
One of the best ways to find success during your college career is to get involved in campus clubs and organizations. Within our biology program, our students can join the Newman University Medical Professions Club, an organization of 200+ members that gives students of all pre-professional medical disciplines the opportunities for mentoring and community involvement (including mission trips). This organization allows for personal growth, networking, and future career success.
Newman alumnus Francisco "Pancho" Fields started his college career at Newman University and is now "transforming society." After getting a MRSA infection his Freshman year, Francisco decided that he not only wanted to pursue a biology degree, but that he also wanted to continue to a graduate program that would allow him to further research treatments for infections like the one he was experiencing. He is now a Ph.D. student at Notre Dame, following his passion.
When asked how Newman helped prepare him for this next step of his career, Francisco stated, "The biology department did a wonderful job of introducing me to a bunch of different experimental methods that are available and that we use in the biomedical sciences, which is mostly what I do."
Newman alumnus Gabe Stewart applied to be a student at Newman University after seeing the success his brother had. Four years older than Gabe, his brother had attended Newman for Biology and was accepted in the first round of applications for KU med school upon graduation. Gabe had similar aspirations and decided to try to follow in his brother's footsteps. "I read a lot — actually, in the Wichita Eagle there was an article — that said Newman students have a great acceptance rate to post-graduate programs especially medical schools, so I knew that's what I wanted to do eventually," said Gabe. "So I applied myself, got accepted here, and I've just loved it ever since." With hard work and the right opportunities, Gabe was able to start at KU Med School upon graduation, just like his brother. Read more about Gabe's experiencing getting into med school here.
We think our university is great, but don't just take our word for it. Hear what some of our previous students have to say about their experience.
"I think the opportunities that were made available to me at Newman helped me grow as a person, so all I had to do was take advantage of the opportunities and work hard, everything else was there for me."
Katie Detmer, Biology/ concentration in Pre-Medicine
"My teachers were incredible, they made me love my subject even more already. The Newman science department is literally the best, I cannot say anymore. If you wanted to do science and love science, you need to go to Newman. It's the best, I am so happy, this is the best choice I've made, I love all of my professors, and I'm just so blessed to have gone to this school and I've made it and I'm graduating. I don't think I would have felt prepared if I went anywhere else, but my professors are always behind me. They are always helping me, pushing me, saying it's okay and believing in me when I sometimes forget to believe in myself, and I think I'm ready to go on and change the world in the ways that Newman prepared me to do."
Lexy Cochran, Biology/ concentration in Pre-Medicine (Summa Cum Laude)