 Newman Studies Program (NSP)
The Newman Studies Program is an innovative, educational opportunity exclusively offered to Newman University students that prepares Newman graduates to adapt to a rapidly changing world in which future professions do not yet exist.
St. John Henry Newman presents his vision for a Catholic university education in his book, The Idea of a University. Newman extols the value of all the disciplines, from literature to science to business, and argues that they must be deeply rooted in the liberal arts and ultimately brought together in pursuit of truth and goodness. For Newman, higher education should produce an enlargement of mind that allows the graduate not merely to succeed in society but to elevate it. The Newman Studies Program encompasses the ideas developed by St. John Henry Newman.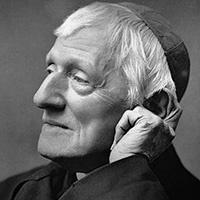 St. John Henry Newman
The Four Educational Pillars
The Newman Studies Program focuses on four principles based on St. John Henry Newman's educational philosophy.
Active Learning
Learning happens everywhere, not just in the classroom. The Newman Studies Program credits its innovative active learning strategies as a key to student success. With a curriculum full of labs, practicums, co-ops, internships, role-playing, service-learning courses and field experiences, the Newman Studies Program provides students with great learning experiences that matter.
Critical Thinking
All the courses in the Newman Studies Program have been designed to produce critical thinkers — students who analyze evidence, question assumptions, test hypotheses, generalize from observations and draw conclusions from data. These are not just skills; they are mind-habits that are in greater demand by employers than any single major or course of study.
Interdisciplinary
Throughout the Newman Studies Program, students have opportunities to learn in interdisciplinary contexts. The capstone of the Newman Studies Program is a four-course sequence that introduces students to big ideas: The Human Story, The Creative Spirit, The Quest for Meaning and The Universe We Live In. These courses are team-taught by faculty members from across the university who bring their unique perspectives to bear on some of the most important questions of all time.
Connectivity
The ultimate goal of the Newman Studies Program is to empower students to make connections — between each other, between different fields of knowledge, between faith and reason and between themselves and the world they will transform.
NSP Disciplines
The Newman Studies Program is focused on the following four disciplines:
Apply to Newman
To be a part of this innovative, educational program, act today by starting an obligation-free application. Learn more about Newman University by scheduling a campus visit with one of our knowledgeable admissions counselors.