Transforming Medical Imaging, one image at a time
The radiologic technology degree at our private university empowers graduates by giving them the skills necessary to be a highly valued employee through providing high quality, compassionate patient care. Our graduates are transforming society through the skills obtained as well as by being service-oriented. Radiologic technologists are highly skilled medical professionals who assist the radiologist in the diagnosis of diseases using ionizing radiation.
Renovation Invested Into Radiologic Technology Program
The Facing Forward campaign made a huge impact on the Newman University campus. It provided the funding to build the state-of-the-art Bishop Gerber Science Center and most recently, the campaign helped to renovate parts of Eck Hall, constructing labs for programs such as nursing, respiratory care and radiologic technology. Read More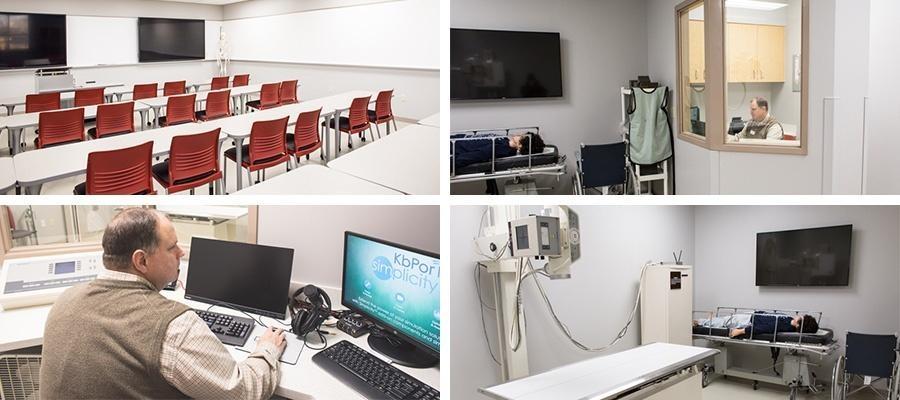 Throughout the twenty-two month program, students are required to complete a minimum of eight hours of community service as well as participate in the radiologic technology program service-learning project. The program hosts a campus blood drive every Fall for the American Red Cross before their critical season of need.
Associate Degrees
Concentrations
Radiologic Technology Department
Our faculty and staff have the knowledge and experience to help you prepare for a career in radiologic technology. If you need clarification on a class assignment or advice on how to approach your future, you can feel confident that our faculty is available and ready to help.
While pursuing a degree in radiologic technology, you can expect a promising future. The radiologic technology field is projected to grow 9% between 2018 and 2028. Our students are prepared to meet the expected demand for radiologists.
Careers
A degree in Radiologic Technology from Newman University will give you the opportunity to work in a variety of fields and specialties related to radiologic technology. The median annual wage for radiologic technologists was $54,100 in Kansas for 2018. The 2018 employment in Kansas was 210,500 and the projected employment is 229,500.
Internships
Our Radiologic Technology students have the opportunity to gain real-world experience by interning in the Wichita community. This allows you to gain experience in radiologic technology while learning hands-on patient communication and care.
Get Involved on Campus
One of the best ways to find success during your college career is to get involved in campus clubs and organizations. Within our radiologic technology program, our students can join Lambda Nu, an international honor society (for radiologic technology students). This organization allows for personal growth, networking, and future career success.
Success Story — Katie Little, Class of 2015
Katie Little started her internship at Wesley Medical Center while attending Newman. After graduating and passing the ARRT registry (a national exam for radiologic technologists), Katie's internship turned into full-time employment with Wesley in the Imaging Department. Little has been in love with her profession of choice ever since her first X-ray. Katie's ultimate goal is to become a physician's assistant. A well-rounded education, her internship and current position at Wesley has Katie well on her way.
Success Story — ARRT Exam, Class of 2011
The May 2011 radiologic technology graduating class had a 100 percent pass rate on the first attempt taking the test of registry given by the American Society of Radiologic Technologists (ARRT). Twenty-four graduates took the test. In the past, the pass rate has been in the low- to mid-90 percentile. The accreditation agency requires that a program have a 75 percent first time pass rate over a five-year average, ranking Newman consistently above the average.
"I expected just plain X-rays you see on medical shows. As I started learning more, I realized there was way more to it than just taking a picture."
Katie Little, Class of 2015
2020 Program Outcome Assessment Data
Of the 20 students that started the program in 2018, 18 graduated in 2020 making a program annual completion rate of 83%.
Within the past five years, 97 first time examinees took the national certification examination. Of those, 74 graduates passed the national certification examination on their first attempt providing a 76% pass rate.
In the past five years, 82 graduates actively sought employment, and 80 of the graduates found jobs creating a 98% placement rate within 12 months of graduation.