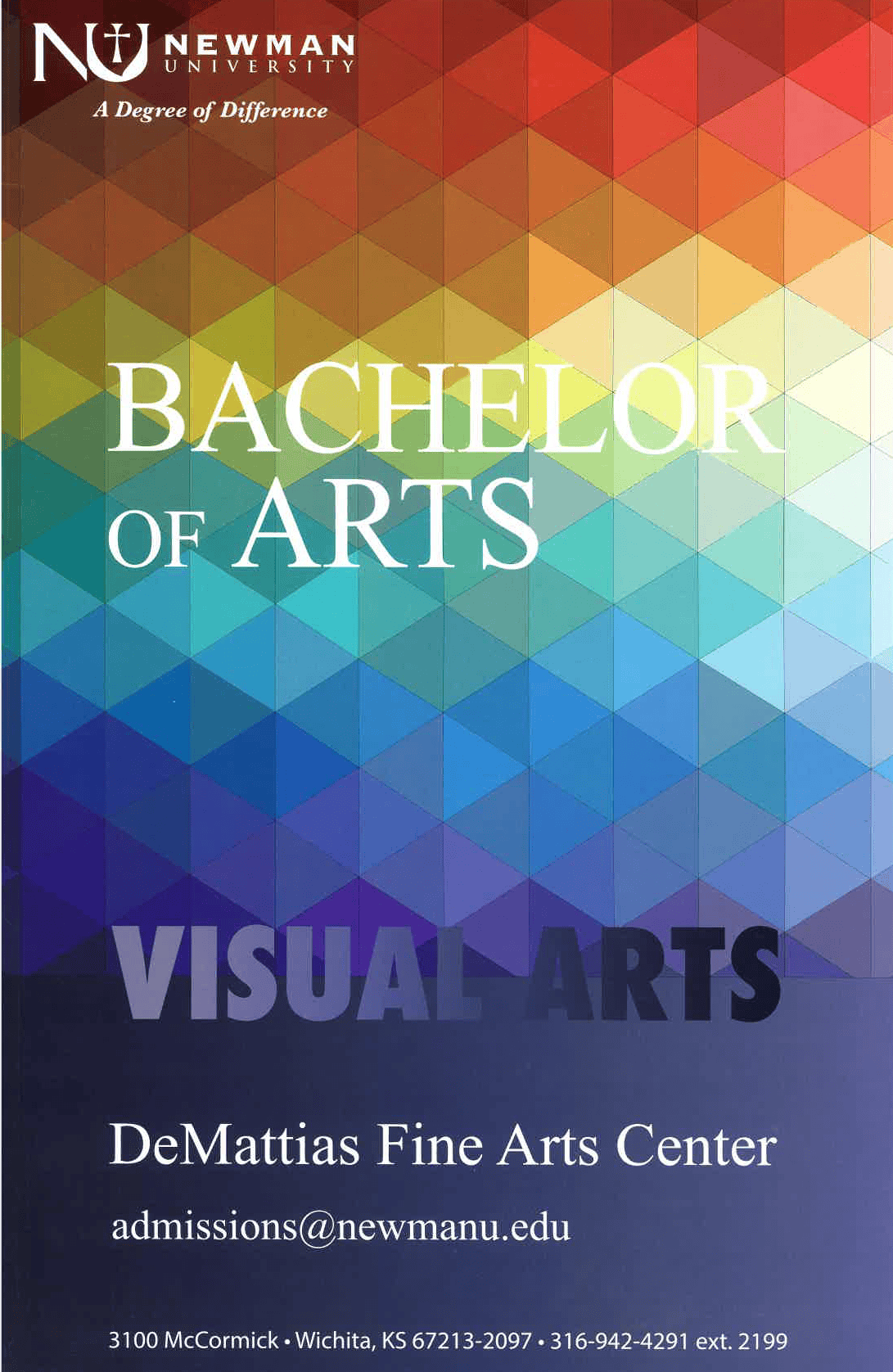 Pursue one of eight different art electives
Gain exposure to historical perspectives, the principles of design, and a diversity of media through our curriculum. Our private university allows you to obtain a thorough understanding of art methods and techniques while also discovering your personal creativity and individuality.
We continually produce successful, skilled artists, with many of our students hosting exhibitions of their own works in conjunction with Final Fridays. Alumni fondly remember the many studio hours they spent developing critical thinking skills, technical proficiencies, and an appreciation for both contemporary and historic art.
Scholarships available for Art majors
Faculty are experienced professional artists
The Newman University Steckline Gallery is one of the top new exhibition spaces in the city, attracting regional artists and artists from around the world.
Students will have the ability to study art in Europe by participating in the Study Abroad program.
Newman University also offers Art scholarships for qualified students interested in studying the art, including graphic design. To apply for an Art scholarship, please apply for admission online at newmanu.edu/apply, submit official transcripts and test scores, and contact your admissions counselor. Scholarships are limited to Art majors, start at $11,000 per year, and are awarded based on academic criteria and a portfolio review. Please contact the Office of Admissions or the Art department for more information. Learn more about creating a portfolio in this video.
Bachelor Degrees
Minors
Electives
Our faculty and staff have the knowledge and experience to help you prepare for a career in art. If you need clarification on a class assignment or advice on how to approach your future, you can feel confident that our faculty is available and ready to help.
Job Outlook
While pursuing a degree in art, you can expect a promising future. Employment of craft and fine artists is projected to grow from 2014 to 2024. Our students are prepared to meet the expected demand for talented, creative artists.
Careers
A degree in art will give you the opportunity to work in a variety of fields and specialties related to creative and fine arts. Here are some examples of potential art careers:
Graphic Designer
Communications specialist
Marketing Coordinator
Photographer/Journalist
Digital Design
Freelance Artist
Internships
Through our art program, you have the opportunity to gain real-world experience by interning in the Wichita community. Students have interned, worked for or went on to further studies at the following locations: Catholic Charities, Child Start, Cohlmia Marketing, PK Technology, Savannah College of Art and Design (MFA), Wichita Art Museum, Wichita State University, City Arts, Museum of World Treasures and more.
Get Involved on Campus
One of the best ways to find success during your college career is to get involved in campus clubs and organizations. Students can join Alpha Chi Alpha, the university art club aimed at helping students discover and cultivate creativity and individuality through interactive events, educational experiences, and art exhibitions. This organization allows for personal growth, networking, and future career success.
Student Testimonials
Newman Alumni
We think our university is great, but don't just take our word for it. Hear what some of our previous students have to say about their experience.
"I like the communication and teamwork, especially with my advisors. Having a small classroom size really helped me because it was a one-on-one. They knew my name and I wasn't just a number. The one stipulation I had [during my college search] was that I wanted to go to a school where I could express my faith. I'm very glad I chose Newman."
Emilie Leivian, CLASS OF 2016
"I've obviously learned from some of the greatest faculty and staff that we have. I think Newman is great about that, I mean we have the best faculty and staff in my opinion. They're awesome, great examples."
Brandi Boes, Class of 2016