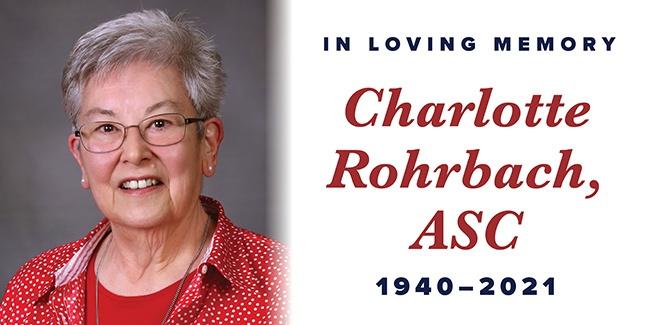 History and Newman University — two of the many passions of Sr. Charlotte Rohrbach, ASC.
Just a few short weeks after the university celebrated its history and traditions with its annual Heritage Month, a series of events she crafted, helped organize and coordinated, Sr. Charlotte passed on to her eternal reward.
We invite you to learn more about the life of Sr. Charlotte by visiting the resources below.
One of the very best teachers I ever had. A special person.
- Robb Rumsey
We've lost a legend, and will forever be grateful for Sr. Charlotte's gifts and graces.
- Noreen M. Carrocci, Ph.D.
Our friendship will always be a special part of my life in so many ways, long after she has physically left me.
- Lori Benge
Sr. Charlotte was such an amazing leader/supporter at Newman. RIP Sr. Charlotte. You were such a joy to work with in my 7 years at Newman!!!
- Lora Allen
Condolence to my ASC Sisters. I remember her smile and her availability when we were in Rome. She will pray for us now.
- Mary Grace D'Amato
She was truly such an incredible woman. She will be missed dearly and her legacy will definitely live on at Newman.
- Sarah Peterson '18 (Nursing)
Previous
Next
Celebration of Life
Join us in a public Celebration of Sister Charlotte's life.
Sunday, April 18, 2021 at 2 p.m.
Newman University, Wichita
(location on campus TBD)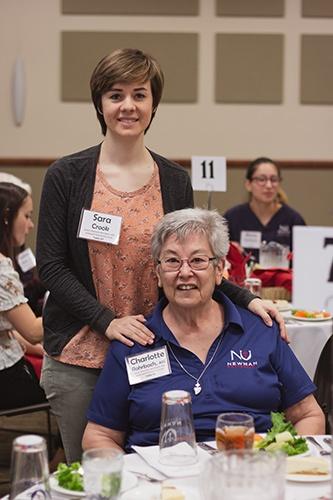 Sr. Charlotte Rohrbach Endowment Fund
The Sr. Charlotte Rohrbach Endowment Fund was created in honor of her 50th anniversary of professed vows to the Adorers of the Blood of Christ to provide scholarship awards to students with financial need.