---
Application Instructions
To ensure full consideration, applications should be submitted by Friday, March 27, 2020.
Application materials must be submitted electronically to This email address is being protected from spambots. You need JavaScript enabled to view it.. The packet of materials, in three separate documents, should consist of:
a substantive cover letter addressing the leadership profile noted above
a full Curriculum Vitae (CV), and
contact information for five professional references. References will not be contacted without the explicit permission of the candidate and at a later stage of the search
Search Committee Updates
Update 03-19-2020
All of us have adapted to extraordinary measures that we are being asked to implement as we navigate the pandemic with which we are faced. In light of this, I wanted to communicate to you that our efforts to find the next president of Newman University continue. While we are making the same changes all of you are making in regard to social distancing, and following all of the public health officials' guidelines, we too are having to script a new playbook to move forward. Our partners at Academic Search have sourced numerous candidates that your search committee has been evaluating. We will continue the evaluation process as we move toward the selection of our semi-finalists in early April. We as a search committee are working with our partners on how to meet remotely in a manner that is effective for us to do our work. While travel is minimalized, it is the reality that some of the work will simply not be able to be done in the manner we had originally intended. We are proceeding with the search, which has 9 more days for candidates to submit their credentials. Thus far, we have been pleased to see some very good prospects who are eager to move forward with us.
As information for all of us changes hourly, I am sure that we as a committee will not be immune from that either, and we will communicate with you as we proceed and learn more. This time of trial that we did not ask for, will be met by Newman with the manner that our faith teaches us. We will take heart in the gospel of Luke's reminder "Be Not Afraid". Thank you for your continued prayers and support. We pray for you, our Newman University, students, faculty, staff and stakeholders.
Blessings,
Jason Searl
Chair Newman University Presidential Search Committee
---
Update 02-24-2020
Following the listening sessions and other institutional needs assessments conducted by our Academic Search consultant, Dr. Rick Artman, the Presidential Search Committee has approved the publication of the Search Prospectus. The Prospectus can be found on this web page at https://newmanu.edu/president-search and https://academicsearch.org/open-searches-public/.
The candidate recruitment phase now begins with advertising and outreach for the next president of Newman University. If you wish to nominate a candidate, please submit the following to This email address is being protected from spambots. You need JavaScript enabled to view it.:
your personal title (Dr., Mr., Mrs.) and name,
personal title and name of your nominee
email address of nominee (if known)
The priority deadline for applications is March 27, 2020.
Once the top candidates are identified by the search committee, the semifinalist candidates will be selected and interviewed by the search committee on April 14-15. Thereafter, it is anticipated the finalists will be invited to campus May 12-15.
Please continue to pray for our continued success, and to that end, be aware that Campus Ministry has organized a rosary at the chapel every Tuesday at 3pm that is said for the Newman University and the success of our search. Please join it anytime throughout the process to pray for our important work.
Blessings,
Jason Searl
Chair, Presidential Search Committee
---
Update 02-01-2020
On behalf of the Board of Trustees and Dr. Rick Artman, senior consultant for Academic Search, Inc., I express our gratitude for the active participation of the university community in the listening sessions conducted by Dr. Artman during his visits on Dec. 8-10 and January 21-23. The feedback from those sessions, as well as other reports, emails and comments shared with the trustees, will be most helpful in the search for Newman's next president. In particular, these comments that the Newman University community provided will be utilized to shape the prospectus that is being developed over the next few weeks. That prospectus will launch the recruiting phase in February.
As previously reported, the Board of Trustees has appointed a Presidential Search Committee. The committee has met several times. Please know we approach this assignment with the importance and gravity which it demands. The members of the committee are:
Jason Searl, trustee, chair presidential search committee
Sister Vicki Bergkamp, trustee, vice chair presidential search committee
Patti Koehler, trustee
Ron Rabe, trustee
Father Mike Simone, trustee
Brad Yaeger, trustee
Alicia Thompson, USD 259 Superintendent
Cheryl Golden, Faculty Senate President
Scott Mudloff, Staff Assembly President
Victoria "Tori" Jansen, student
Ex Officio Members: J.T. Klaus, chair, Board of Trustees, Teresa Hall Bartels, Interim President
At the meeting of the Presidential Search Committee on January 22nd, 2020, the committee determined a preliminary timeline for the presidential search. The major search activities and tentative dates are as follows:
| | |
| --- | --- |
| Feb. 21 | Search Prospectus completed and posted on Newman and Academic Search Websites |
| Feb 21-Mar 27 | Recruitment Period, application deadline is March, 27th |
| Apr 2 | Search Committee meets to select Semifinalists |
| Apr 14-15 | Search Committee interviews Semifinalists and selects Finalists for campus visit |
| May 12-15 | Finalists' on-campus interviews |
| After May 18 | Board of Trustees select new president |
Throughout the recruitment process, it is necessary the names of candidates be held in the highest confidence by the search committee. Each member has signed a statement of confidentiality that protects the anonymity of the candidates whose careers could be jeopardized if their candidacy is prematurely made public. Once finalists are selected, information about the candidates and their interview schedule will be announced.
As the search progresses, I will provide regular updates to the university community on this page.
Please pray for the work of the Presidential Search Committee and for the successful completion of our search for Newman's next leader. Thank you again for all of your thoughts, suggestions, and comments.
- Jason Searl
Chair, Presidential Search Committee
---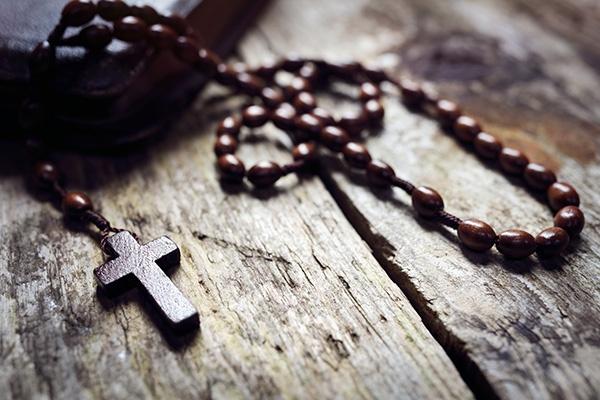 ---
Please continue to pray for our continued success of the search committee. Campus Ministry has organized a rosary at St. John's chapel every Tuesday at 3pm for the intentions of Newman University and the success of our search. You are invited join it anytime throughout the process to pray for our important work.