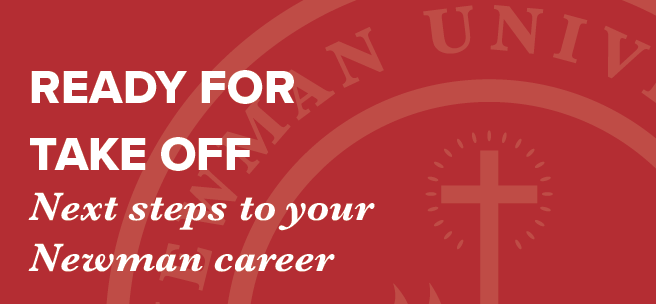 We are excited you plan to join us as a Jet! Use the checklist below to make sure you're set to be a Newman student. Need to leave this page but want to hold your place? Don't worry, this page will remember what items you have completed as you go.
Pro Tip: Bookmark this page in your browser so you can easily return to edit your progress.
1. Contact Your Counselor About Enrolling for Classes
2. Take Your Placement Exams
Check the information below to see if you are required to take placement exams on or prior to your registration day. Placement exams are important and help place you into your first math and English class.
Pro Tip: If you already have credits earned through a college/university, make sure request for official transcripts to be sent to Newman University and notify your admissions counselor so we can make a note in your advising file for registration (you may not have to take placement exams).
For Math:
Your ACT/SAT sub-score will be used to determine the level of your first college math class.
You will

not

need to take a placement exam unless you wish to test into a higher level.
If your ACT math subscore is

20 or below

or if your SAT math subscore is 510 or below (new test)/470 or below (old test), you are

encouraged

to take the math placement.
If you wish to test into a higher level course, you may take the math placement exam on campus in Student Support Services during your registration day. You'll be given the option to opt-in when you sign up for registration.
For Writing:
All students must take the writing placement exam

unless you have already earned transferable college credit in College Writing I or the equivalent course. If you have earned college credit be sure to submit official copies of your transcripts to the Office of Admissions.
You must take the English placement exam at least one week prior to your scheduled registration day.
3. Select a Learning Community
When you select a registration day, you'll also be asked to select two choices for a learning community. Each year, new students are grouped into learning communities with their fellow freshmen to study the links between diverse subjects, bond with other classmates, and create a community of active learners.
4. Sign and Return Your Financial Aid Award Letter
If you filed the Free Application for Federal Student Aid (FAFSA), you should have received an official financial aid award letter from Newman. Award letters were mailed starting in January to students who have completed the FAFSA and any supporting verification documents. Please make sure to review your financial aid award letter, make any changes, sign and return to Newman University as soon as possible! All letters must be signed and returned, even if there are no changes, in order for all aid to be processed.
5. Complete Your Housing Application or Off-Campus Housing Waiver Request
All freshmen are required to live on campus their first and second years at Newman, unless your home address is within a 30 mile radius of campus and you plan to live at home with a parent or legal guardian. Make sure to complete your online housing application or the off-campus housing waiver request form.
6. Complete your Health Forms

The state of Kansas requires that each incoming student residing in student housing be vaccinated for meningitis or sign a waiver refusing receipt of the meningitis vaccine. Use the link below to download and complete this form or to learn more about these requirements.
Kansas Statute also requires every student to complete a tuberculosis evaluation. In order to be in compliance with Newman University policy, please use the link below to complete the online tuberculosis questionnaire or to learn more about these requirements.
Questions may be directed to the Student Life Office.
7. Send Us Your Final Transcripts

Graduated and received your last semester grades? We need your final high school transcripts! All seniors are required to send a final high school transcript to Newman showing their last semester grades and graduation date. Connect with your high school guidance office to have these sent.
Taken college credits while in high school? We'll need these transcripts, too! Request official transcripts from the college or university you are receiving college credit from after your last grades have posted. Contact the school Registrar's Office to have the final college transcripts sent to Newman, so we may award you transfer credit. These are helpful to have before you sign up for your first semester classes. Here are some links to request official transcripts from several local colleges/universities, which can be mailed or sent electronically to pThis email address is being protected from spambots. You need JavaScript enabled to view it.:
#1 Ranked College in Kansas
CollegeChoice.net ranked Newman University as the top college out of 21 other Kansas colleges.
Top Placement for Newman Grads
95% of NU alumni report being employed or in grad school within 12 months of graduation.
Top Ranked - BestColleges.com
Newman was ranked as one of the best colleges in Kansas for the 2017 year.
Office of Admissions
3100 McCormick
Wichita, KS 67213
Phone: 316-942-4242
Fax: 316-942-4483
This email address is being protected from spambots. You need JavaScript enabled to view it.
Office of Financial Aid
3100 McCormick
Wichita, KS 67213
Phone: 316-942-4291 ext. 2103
Fax: 316-942-4483
This email address is being protected from spambots. You need JavaScript enabled to view it.
Office of Student Life
3100 McCormick
Wichita, KS 67213
Phone: 316-942-4291 ext. 2200
Fax: 316-942-4483
This email address is being protected from spambots. You need JavaScript enabled to view it.