Merlini Hall is for sophomore-standing students or higher and has suite-style rooms. One double occupancy room shares a bathroom with a single occupancy room, and all suites are gender separated.
---
Double Occupancy Rooms Plus Community Spaces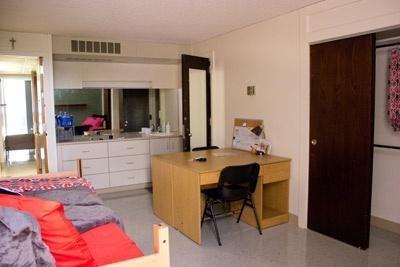 Rooms are assigned with priority given to seniority and students who submit their housing applications early. A very limited number of singles are available, and these are assigned on a first come, first served basis.
"Newman's sense of community makes it easy to meet new friends and there's always something going on."
Suite Amenities
Extra-long twin bed
Computer desk and chair
Cable, phone, and wireless Internet
Building Amenities
Two laundry rooms
Two computer lobbies with Internet
Two recreation lobbies, one television lobby, one study lobby
Two vending machines
Hall Policies
Visitation by members of the opposite gender is allowed only during visitation hours. For more information on visitation hours and other Residence Life policies, please refer to the Residence Life Handbook.
Residence Hall Tips
Unsolicited Advice
Make your bed into a couch by placing a bunch of pillows along a wall. It'll be cheaper than buying a couch that would take up a lot of space.
Things you won't want to be without
Quarters for laundry and a winter coat! Bring your favorite thing with you - an old blanket, stuffed toy, pictures . . . whatever will make you feel at home, no matter where you are.
Etiquette considerations
Respect quiet hours. Attend and help plan events. Take your trash out - no one likes a smelly room. If your music is shaking your room, then it's shaking your neighbor's room. Chances are, they don't enjoy it as much as you do.
Survival tips
Get enough sleep! Actually go to class, and buy your books.