Newman University's Steckline Gallery is a professional and premiere art gallery. Monthly shows rotate through the gallery changing each Final Friday during the show season.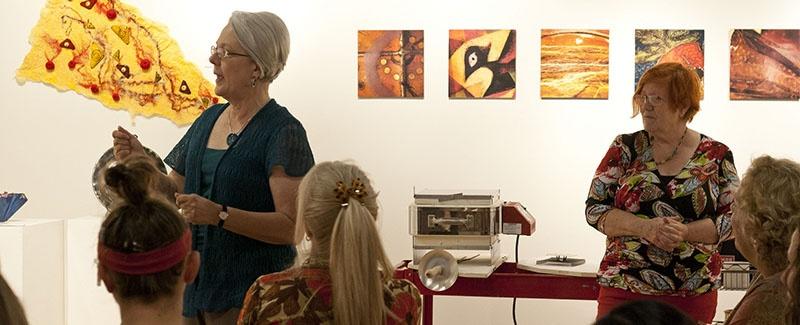 Artists discuss their techniques and methods during an Art for Lunch session at the Enamel Group Show.
Juried Gallary - Beauty from Ashes
Calling all Wichita artists!
Artists encouraged to submit original work of all media for consideration in Steckline Gallery's annual Juried Exhibition on the theme Beauty from Ashes, sponsored by the Gerber Institute. Artists are invited to use this opportunity to share their reflections on the fires at Notre Dame. Chosen works will be displayed at Steckline during December 2019 with opening reception and awards on First Friday, December 6, 5-7 pm.
Work must be original and created within the past three years. Awards include $500, $250 and $150 cash prizes. Artists may submit up to 5 works, no entry fee is required.
The Selections and Awards Jurors for the Beauty from Ashes Juried Exhibition are Father Adam Grellinger and Christopher Gulick. Fr. Grellinger is a Wichita native and Newman alum, he currently serves as University Chaplin, Director of Campus Ministries, and Prof. of Theology at Newman. Gulick is a Wichita based, internationally exhibited, kinetic sculptor and author.
For more information, contact Steckline Gallery Director, Shannon Johnston at 316-942-4291 ext. 2542 or This email address is being protected from spambots. You need JavaScript enabled to view it..
Steckline Gallery Mission
Newman University's Steckline Gallery encourages appreciation and understanding of art and its role in society through direct engagement with original works of art and the artists who create them. The Gallery promotes active learning about art, cultural diversity, and the creative process through teaching and dialogue among communities of Newman students, faculty, artists, scholars, alumni and the general public. The gallery organizes exhibitions and educational programs to inspire inquiry and academic excellence with the underlying goal to promote lifelong learning and personal development.