Exhibit in the Steckline Gallery
Interested in exhibiting at the Steckline Gallery?
Questions?
Shannon Johnston, Steckline Gallery
Newman University
3100 McCormick
Wichita, KS 67213
You can also email submissions to [email protected].
*The gallery committee will review proposals and generate a schedule.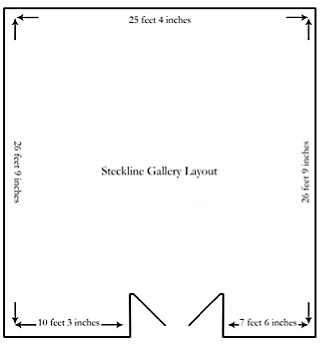 All great things first begin with an idea. From this idea stems the possibility to explore, create and achieve. Steckline Gallery is the perfect landing point for an idea to become reality. Located on the campus of Newman University, this gallery is one of the premier galleries in Kansas and the Midwest. It offers exhibits on a monthly basis through the academic year featuring the talents of local, regional, national and international artists. With crisp white walls, Steckline Gallery is a clean canvas for artists to create a masterpiece through their work.
Opening receptions for new exhibits are typically part of the "Final Friday" gallery art crawl, drawing in art lovers from around Wichita. Complete with hors d'oeuvre and refreshments, Steckline Gallery is the ideal place to begin your evening of art exploration. The gallery also holds an "Art for Lunch" presentation for most exhibits. Many of which feature the artist and include a limited free lunch. This lunch allows you to get a more in-depth perspective of the artist's process, source of inspiration and have your questions and answered in a more intimate setting.