Assist patients with disabling conditions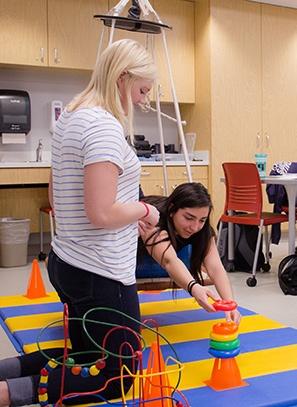 Our Associate of Science in Health Science in Occupational Therapy Assistant prepares students to take the certification exam and obtain a license to work under the supervision of an occupational therapist. The occupational therapist school years can be done is as little as three years. As an occupational therapy assistant, you can assist people with physical, mental, and developmental disabilities, helping them to achieve greater independence and quality of life. Many students are able to begin training as a therapy aid while still achieving their degree.
The students in our occupational therapy assistant programs are very successful in the national crediting exams, and many are employed within six months of graduation. The majority of our classes involve hands-on learning and laboratory experiences. Our private Catholic university's urban campus location allows for students to become affiliated with both large and small medical centers.
Graduates of the program will be eligible to sit for the National Certification Examination for the Occupational Therapy Assistant administered by the National Board of Certification in Occupational Therapy (NBCOT). After successful completion of this exam, the individual will be a Certified Occupational Therapy Assistant (COTA). In addition, Kansas and most other states require licensure in order to practice; however, state licenses are usually based on the results of the NBCOT Certification Examination. Please note that a felony conviction and/or other records of misconduct may affect the graduate's ability to participate in required fieldwork, sit for the NBCOT certification examination, and/or attain licensure.
---
National Board for Certification in Occupational Therapy (NBCOT) examination pass rates for Newman University graduates and those of other OTA and OT programs can be found online at nbcot.org
THE OCCUPATIONAL THERAPY/OCCUPATIONAL THERAPY ASSISTANT PROGRAM IS ACCREDITED BY THE ACCREDITATION COUNCIL FOR OCCUPATIONAL THERAPY EDUCATION (ACOTE) OF THE AMERICAN OCCUPATIONAL THERAPY ASSOCIATION (AOTA), LOCATED AT 6116 EXECUTIVE BLVD, SUITE 200, NORTH BETHESDA, MD 20852-4929. ACOTE'S TELEPHONE NUMBER, C/O AOTA, IS (301) 652-AOTA AND ITS WEB ADDRESS IS WWW.ACOTEONLINE.ORG.

Associate Degrees
Pre-Professional Programs
About Our Faculty
Occupational Therapy Assistant Department
Our faculty and staff have the knowledge and experience to help you prepare for a career as an occupational therapy assistant. If you need clarification on a class assignment or advice on how to approach your future, you can feel confident that our faculty is available and ready to help.
While pursuing a degree as an occupational therapy assistant, our students can expect a promising future. The occupational therapy assistant field is projected to grow 40% between 2014 and 2022. Our students are prepared to meet the expected demand.
The Associate of Science in Health Science in Occupational Therapy Assistant from Newman University will give you the opportunity to work specifically in the field of occupational therapy.
Our occupational therapy assistant (OTA) students have the opportunity to gain real-world experience by interning/fieldwork in the Wichita community and throughout the nation. Many of our students have held successful internships at Ascension Via Christi, Wesley Medical Center, Encompass Wesley Rehabilitation Hospital, Breakthrough Club, Sedgwick Co. Special Education Cooperative, Reeds Cove, and Derby Health & Rehabilitation.
One of the best ways to find success during your college career is to get involved in campus clubs and organizations. Within our occupational therapy assistant program, our students can join the Newman Occupational Therapy Student Association (NOTSA). This organization allows for personal growth, networking, and future career success.
NEWMAN OTA PROGRAM CERTIFICATION BOARD PASS RATES
From 2016 through 2019, Newman University OTA students have a 3 year average examination pass rate of 96.3% according to the National Board for Certification in Occupational Therapy (NBCOT). Click here to see that Newman University's OTA program is consistently a top performer in the state of Kansas according to
NBCOT
.
NEWMAN OTA PROGRAM GRADUATION RATES
The total number of graduates from the Newman University Occupational Therapy Assistant program during the 3-year period of 2015 to 2017 was 58 with an overall graduation rate of 83%.
| | | |
| --- | --- | --- |
| Beginning Class | # in Class | #Graduated Graduation Rate |
| 2017 Spring | 13 | 10 77% |
| 2016 Spring | 20 | 19 95% |
| 2015 Spring | 25 | 19 76% |
| 3 Year Total | 58 | 48 83% |
"When applying the professors were happy to answer any questions I had about the program. They were all extremely helpful and welcoming! My favorite aspect of the program is being able to see the variety of places being an OTA can take you. Hospitals, school, and rehab are just a few that interested me. Newman has more than prepared me for becoming an OTA!"
Sierra Madrigal '17
"The program is very focused on preparing OTA students for clinical practice after graduation. Book knowledge only gets you so far if you're unable to apply it in a real life setting. I was nervous interviewing for my first job as an OTA, but I think the fact that I was hired by one of the companies I completed fieldwork with really speaks to the point that Newman prepared me well."
Kelsey Crawford '17