Combine your interests and passions into one customizable degree
A Liberal Studies major allows students to integrate a range of interests into a major that offers depth and breadth from across three disciplines. The key element is the blending of diverse subjects into a unified and coherent world view. This is demonstrated by successful completion of coursework across the three disciplines and a capstone interdisciplinary project that incorporates elements from each.
Compare and contrast relationships among three disciplines
Expand critical thinking through studying multiple disciplines
Demonstrate ability to integrate working knowledge of three disciplines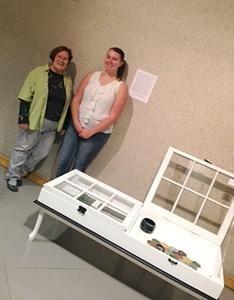 Liberal Studies major Sarah Pulliam (right) and her work with Prof. Susan DeWit (left) at the January 2017 Steckline Gallery Final Friday
Our liberal studies program allows you to take coursework in three different discipline areas to integrate your interests into a single major. Beyond the core requirements which provide a foundation for liberal education, the Bachelor of Arts in Liberal Studies requires specific courses directed at broad social sciences, humanities and cultural ideas, preparing you with our Catholic college's core values to transform society.
Research opportunities serve to bring the liberal studies major to completion. You will be given the opportunity to conduct research on a topic of your choice through the capstone project, which is evaluated by a committee of faculty. Required coursework is tailored to your personal interests.
Liberal Studies Department
Our faculty and staff have the knowledge and experience to help you prepare for a career in liberal studies. If you need clarification on a class assignment or advice on how to approach your future, you can feel confident that our faculty is available and ready to help.
While pursuing a degree in liberal studies, you can expect a promising future. Our private university provides students with the fundamental skill sets that are in demand by 72% of employers. Graduates qualify for a wide array of successful careers.
Careers
A degree in liberal studies from Newman University will give you the opportunity to work in a variety of fields and specialties related to social sciences, humanities, mathematics and communication arts. Here are some examples of potential careers and their median salaries:
Economics ($99,180 a year)
High School Teacher ($47,506 a year)
HR Specialist ($57,420 a year)
Social Worker ($37,000 - $56,000 a year)
Internships
Our students have the opportunity to gain real-world experience by interning in the Wichita community. More information on our cooperative education and internships can be found here.
Get Involved on Campus
One of the best ways to find success during your college career is to get involved in campus clubs and organizations. Within our Liberal Studies program, our students can join the Art Club, Board Games Club, Chemistry Club, Newman University College Republicans, Jets for Life and more. These organizations allow for personal growth, networking, and future career success. A complete list of our campus clubs can be found here.
"The experience was wonderful. I would recommend Newman to anybody, whether they want to further their degree or anything."
Christopher Wayne Jone, CLASS OF 2016
"Newman offers a good home base. It's a very nurturing place. I didn't have very many opportunities in high school, but when I went to Newman because of its welcoming nature and small size, I was able to grow in a way I wouldn't have been able to at a larger institution. I learned a lot about leadership, getting involved, and service learning."
Francisco Fields, CLASS OF 2014