Non-profit Management is a new concentration, available starting spring 2016. This unique degree program will prepare students for leadership roles in the non-profit sector and include courses specific to non-profit management, experiences and strategy.
Non-Profit Management Curriculum Track
Download the printable version (PDF)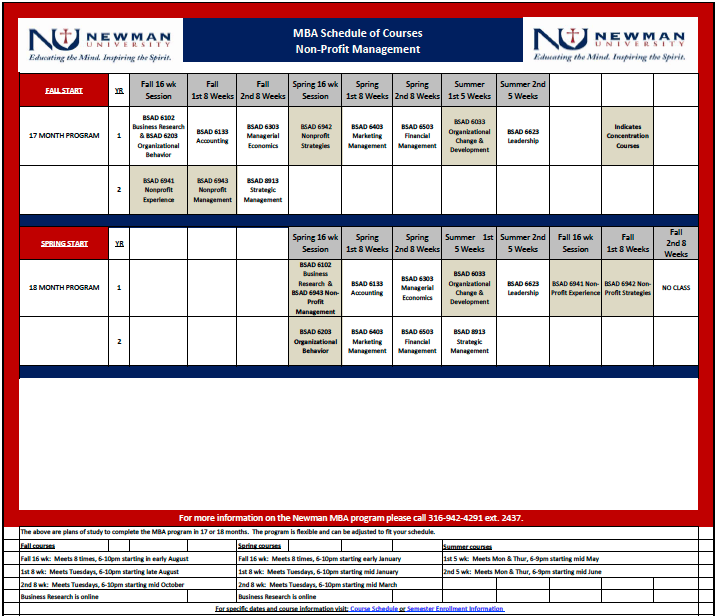 View all MBA course requirements and descriptions online
View the Interactive Course Schedule
Non-profit Management Concentration Course Descriptions
BSAD 6943 - Non-Profit Management
This course provides an overview of topics and trends in the governance and management of non-profit organizations, i.e. resource mobilization, board development, volunteers, etc. Case studies and timely examples will help develop skills needed to lead and manage non-profit organizations.
BSAD 6942 - Non-Profit Strategy
This course explores strategies in non-profits adapted to these organizations in program articulation and evaluation, dependence on gifts and volunteers, promotion and impact, regulation and legal guidelines, etc. Student in-depth experiences in this course will be captured in projects chosen in conjunction with MBA faculty.
BSAD 6941 - Non-Profit Experiences
This course offers students the opportunity to practice new skills in the non-profit organization of their choice (in collaboration with faculty) and to mentor each other using their experiences throughout the course.
BSAD 6033 - Organizational Change & Development
A study of organizational change theory, process and models; the role of change agents; organizational diagnosis and intervention; culture, process, strategy, structure and technology changes in organizations, and measurement of change effectiveness. Prerequisites: BSAD 6203