9 Myths about Private Nonprofit Higher Education
A special initiative by the National Association of Independent Colleges and Universities.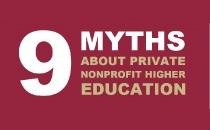 Think we can't fit in your budget?
With tons of scholarships, grants and financial aid available, Newman can give you high quality education at a surprisingly affordable price. Our small nurturing environment and faculty mentors help ensure each student's individual success, something you just don't get at larger, public universities. So, no matter where you attend Newman classes - in a classroom or online - you'll feel the difference in our personal care and our academic expectations.
Visit with a financial aid counselor to learn first-hand what your personalized financial aid package from Newman looks like!
Benefits of attending Newman University
Less than 1% of full-time freshmen students ever pay full tuition.
The average full-time freshman receives $10,000 – $12,000 in scholarships and grants.
100% of NU scholarships and grants are renewable (based on academic performance).
51% of NU students come from households with an average gross income (AGI) of $60,000 or less per year.
The personal care and attention Newman students receive is a value in and of itself.
Our Careers Services office and Alumni office work to assist current students and alums in their job search.
Small class sizes ensure you get the attention you need.
Instructor's doors are always open outside of class.
There are no rooms full of strangers; rather a campus full of friends.
A flat tuition rate makes it possible to finish your degree early at no extra cost.
Transfer students do not give up the care and attention they've grown accustomed to.
Transfer students in Kansas and surrounding states (Oklahoma, Texas, Missouri, Nebraska, and Colorado) who have received their Associate's Degree will receive a $1,500 scholarship per year for two years for a total of $3,000.