The ability of organizations to make appropriate decisions with accurate information is a key focus for management and a distinctive competitive advantage. This concentration includes current theories and practices in information processing, technology and strategy. The study of issues in information resource, database and telecommunications management are also covered. This concentration prepares managers to procure and utilize the most effective tools and technology available.
MIS Curriculum Track
Download the printable version (PDF)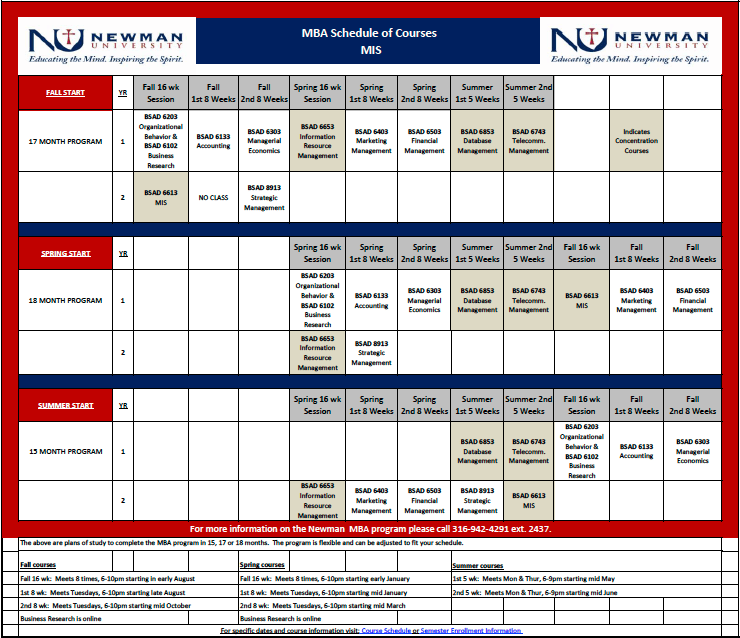 View all MBA course requirements and descriptions online
View the Interactive Course Schedule
Management Information Systems Concentration Course Descriptions
BSAD 6613 - Management Information Systems (3)
A study of current theories and practices of information processing and decision-making, with a particular focus on information technology and its uses in improving work practices, products, and tools for decision support. Topics may include the use of artificial intelligence, competitive pressures and risks of information technology, setting IT strategy, information system planning and development of enterprise architecture.
BSAD 6653 - Information Resource Management (3)
This course examines Information Resource Management (IRM) from a strategic resource perspective, including implementing IRM with an organization. Topics will include information systems out-sourcing, total cost of ownership, information systems planning and strategic analysis, justification for IT investment, management of IT human resources, traditional project management theory, and project management techniques derived from the Theory of Constraints (TOC).
BSAD 6743 - Telecommunications Management (3)
A study of the issues involved in the management of the telecommunications function, including an overview of communications technology used in various business applications, local area network, wide area network, broad band network, plus wireless and voice networks, Internet technologies and protocols. Other topics may include the strategic impact of these technologies on organizations as well as strategic planning for telecommunications, including network planning and analysis.
BSAD 6853 - Database Management for Decision Makers (3)
A study of the data needs of functions such as marketing, finance, production, etc. The course will focus on learning data base management skills needed to design, develop and use a data base, data warehousing, and data mining systems for effective decision-support.