The degree to which business today is connected with organizations across the globe cannot be overstated. Concentration courses examine international business law, financial management, marketing strategy and economics.
International Business Curriculum Track
Download the printable version (PDF)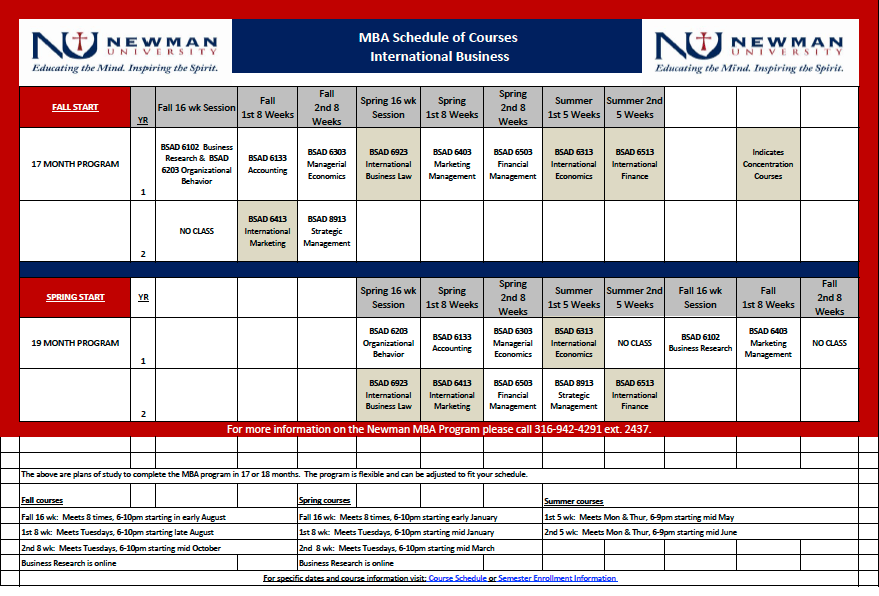 View all MBA course requirements and descriptions online
View the Interactive Course Schedule
International Concentration Course Descriptions
BSAD 6313 - International Economics (3)
This course will focus on the economic structure and policies that govern the movement of goods and services in global markets. Topics include the basis for trade, balance of payments, the theory of comparative advantage, trade barriers, effects of regional integration, customs unions, international trade agreements such as GATT and NAFTA, plus organizations such as the WTO and the World Bank.
BSAD 6413 - International Marketing Strategy and Management (3)
This course examines the framework for developing and implementing international marketing strategies. Topics include international market structure analysis and segmentation, market entry strategy, sources and sustainability of competitive advantage, standardization vs. adaptation, and export performance factors, among others.
BSAD 6513 - International Financial Management (3)
This course is a survey of the financial decisions faced by multinational and transnational enterprises. Topics include the international financial environment, exchange risk management, global financing, and the investment and funds management decisions of multinational and transnational firms. Prerequisite: BSAD 6503.
BSAD 6923 - International Business Law (3)
This course exposes students to the legal risks of transacting business internationally. The course focuses on the techniques and strategies used to minimize or insure against such risks. Topics include the legal and ethical environment, trade regulation, international contracting, documentary transaction and trade finance, and licensing intellectual property. Teaching methods are lecture, class discussion, and case studies.