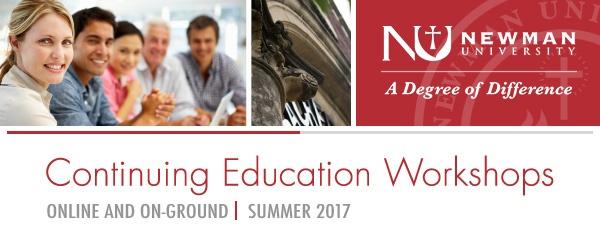 2017 Summer Teacher Workshops
Newman University delivers the most affordable workshops in the state of Kansas!
Try us - you will love our highly engaging courses and AWESOME teachers.
WORKSHOPS SCHEDULEREGISTRATION FORM
Please contact Angelo Letizia at 316-303-2551 or This email address is being protected from spambots. You need JavaScript enabled to view it. or Cindy Corn at 316.942.4291 x 2415 or This email address is being protected from spambots. You need JavaScript enabled to view it. with any questions you might have!
Registration Opens April 3, 2017!
Registration deadline for each class is ONE WEEK PRIOR to workshop start. You can print and mail the registration form with your credit card number or a check OR you can fill out the form and scan and email it to This email address is being protected from spambots. You need JavaScript enabled to view it.– your choice! If you would rather call in your credit card information, you can call Cindy at 316.942.4291 x 2415.
Dropping a Class: A workshop may be dropped with 100% refund up to one week prior to course start. After that there is no refund. If you feel you have an extenuating circumstance that is beyond your control, please contact Dr. Gina Marx at This email address is being protected from spambots. You need JavaScript enabled to view it. for an Exception to the Policy request form. If your exception request is approved, a refund will be issued.
Course Cancellation: In rare circumstances, due to low enrollment, a course may be cancelled one week prior to start. You will be notified if your workshop is cancelled, and you will get a full refund, or you can let us know what course you want to transfer your enrollment to!
Address or Name Change: Contact Cindy at 316.942.4291 x 2415 with any changes between your workshop(s) and when you need to order your transcript!
Ordering a Transcript: When you need to order a Newman University Official Transcript CLICK HERE to go directly to the transcript request page!